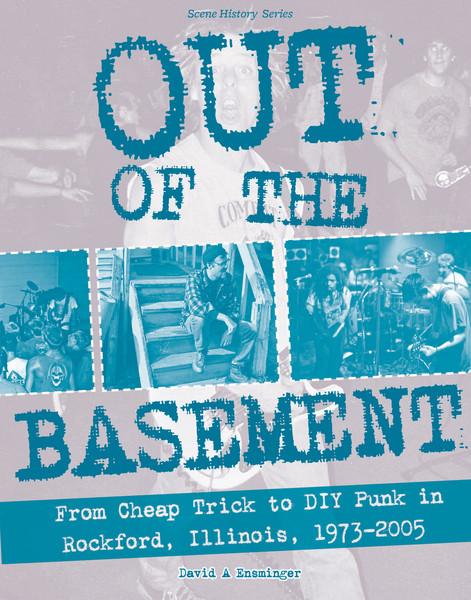 A meet, greet, and discussion with authors David Ensminger and Daniel Makagon — two punkademics who explore and document the DIY scene of punk rock, plus local punk icon Martin Sorrondeguy of Limp Wrist and Los Crudos, who will be projecting photographs. The three will discuss punk history, their own involvement throughout the decades, DIY culture, and future issues, like chronicling scenes in a digital era that may lack traditional zines, flyers, and records.
Ensminger's Out of the Basement: From Cheap Trick to DIY Punk in Rockford, IL, 1973-2005 "emits in vigorous detail the lineaments of the sweat-drenched musical underground nestled in his rock hard hometown… sense impressions combine with slices of scholarly reflection and the author's own energy and timeless enthusiasm." —  Denise Sullivan.
Martin Sorrendeguy is a punk singer known worldwide for his work with Los Crudos and Limp Wrist; he is a filmmaker that made Beyond The Screams: A U.S. Latino Hardcore Punk Documentary in 1999, and is an avid photographer whose exhibits, monograph, and lectures document's punk's global impact.
Daniel Makagon's Underground: The Subterranean Culture of DIY Punk Shows published by Microcosm "explores the culture of DIY spaces like house shows and community-based music spaces, their impact on underground communities and economies…" As associate professor at DePaul University, he teaches and researches urban communication, documentary, music culture, guerrilla art, and democracy. He edits the City Series for Liminalities too.
David Ensminger writes for Razorcake and teaches at Lee College. His new book, Out of the Basement (Microcosm Publishing) is a portrayal of a rust belt city full of rebel kids making DIY music despite the odds. It combines oral history, brutally honest memoir, music history, and a sense of blunt poetics to capture the ethos of life in the 1970s-2000s, long before the Internet made punk accessible to small towners. From dusty used record stores and frenetic skating rinks to dank basements and sweat-piled gigs to the radical forebears like the local IWW chapter, the book follows the stories of rebels struggling to find spaces and a sense of community and their place in underground history. It includes hilarious untold stories and anecdotes about Fred Armisen, Green Day, and the Misfits. Ensminger has authored six books covering both American roots music and punk rock history, including Visual Vitriol: The Street Art and Subcultures of the Punk and Hardcore Generation (Univ. Press of Mississippi, 2011) and Left of the Dial: Conversations with Punk Icons (PM Press, 2013), and Out of the Basement (Microcosm). His new The Politics of Punk analyzes radical music, social justice, community building, and punk philanthropy.
For more info: leftofthedialmag@hotmail.com, http://visualvitriol.wordpress.com
And this:
David Ensminger, "The Politics of Punk: Protest and Revolt from the Streets" (Rowman and Littlefield, 2016)
Nov 18th, 7pm
Free Event