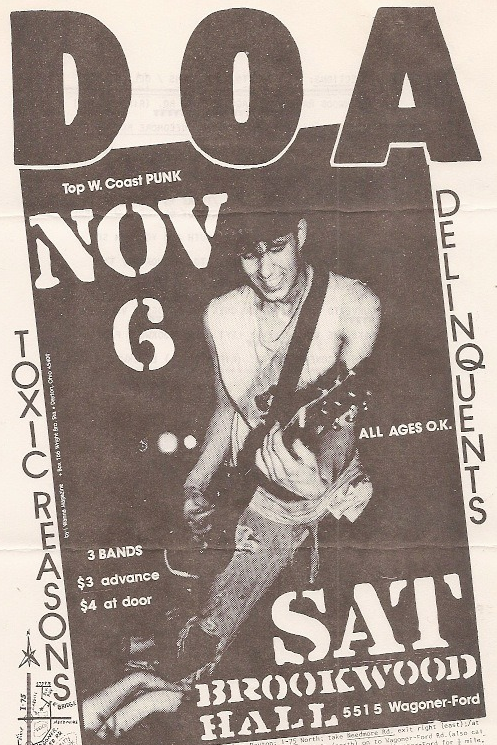 Rock'n'Roll Decontrol will feature a punk discussion with Tony Erba (iconic member of bands like Face Value, 9 Shocks Terror, Cheap Tragedies, Fuck You Pay Me and more), classic punk Ed Pittman (Toxic Reasons, New Regrets), and writer/photographer/drummer David Ensminger (who has played with the singers of Sado-Nation, the Dicks, Big Boys, Plimsouls, and more).
David Ensminger's numerous books include an upcoming interview collection featuring a focus on the history of Washington D.C. punk and another volume with interviews culled from the last ten years of his work in zines like Razorcake and Maximum RocknRoll as well as brand new interviews with members of Toxic Reasons, Agnostic Front, and the Flesh Eaters.
Earlier this spring, Ensminger released:
Beneath the Shadows of T.S.O.L.: a collection of four interviews with groundbreaking singer Jack Grisham (done by Ensminger as well as Welly, editor of Artcore and singer for the notorious Welsh punk band Four Letter Word) that span the years from 2001 to 2018; it also includes a concise T.S.O.L. record chronology by Grisham, plus fan essay too, along with myriad rare photographs (including from famed punk chronicler Ed Colver!) and tons of gig flyers. It is an essential read for those interested in the Southern California punk revolt, death/dark/gothic/politico punk, and the history of underground music on the West Coast.
Bio: David Ensminger is a college instructor and the author of several books covering both American roots music and punk rock history — Visual Vitriol: The Street Art and Subcultures of the Punk and Hardcore Generation (Univ. Press of Mississippi, 2011), Mojo Hand: The Life and Music of Lightnin' Hopkins (Univ. of Texas Press, 2013), Left of the Dial: Conversations with Punk Icons (PM Press, 2013), and Mavericks of Sound: Conversations with the Artists Who Shaped Indie and Roots Music (Rowman and Littlefield, 2014). His book The Politics of Punk was published by Rowman and Littlefield in Aug. 2016, while Out of the Basement: Punk in Rockford, IL, 1973-2005 was published in March 2017 by Microcosm Press.
Currently, his chapter on the film Repo Man ("Looking for a Joke With a Microscope: The Intersection of Punk and Humor in Repo Man") was featured in the new Routledge Companion to Popular Music and Humor. Both The Boston Globe and The Economist have highlighted his research; meanwhile, he writes for both academic and popular press publications like Art in Print, Razorcake, The Journal of Popular Music Studies, Houston Press, Trust(Germany), Artcore (Britain), and Maximum Rock'n'Roll.
For more info:
Contact David Ensminger, davidae43(at)hotmail(dot)com