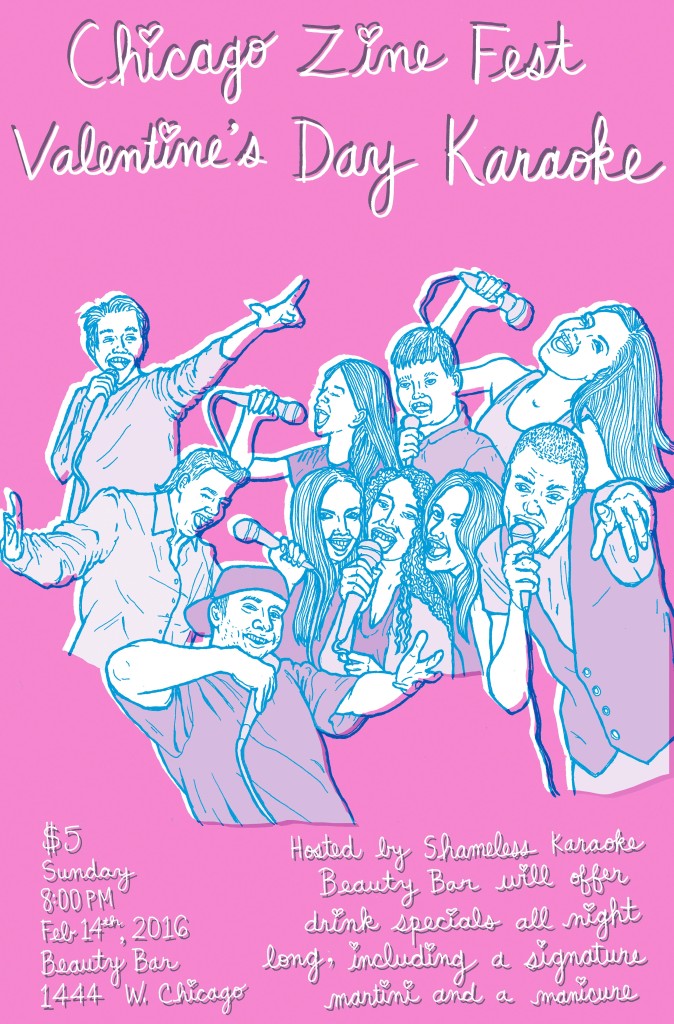 Show your love through song this Valentine's Day, Sunday, February 14th as you help raise funds for the independent literary event Chicago Zine Fest, at Beauty Bar, 1444 W Chicago Ave. (NOT AT QUIMBY'S.)
For their fifth annual karaoke fundraiser, Zine Fest partners with Shameless Karaoke with a songbook of karaoke favorites from Blondie, the Smiths, James Brown, Madonna, Black Sabbath, David Bowie, Prince, The Clash, Elvis Costello, the Kinks, Kiss, Britney Spears, Roxy Music, the Sex Pistols, classic punk and new wave and more. You can voice your feelings about Valentine's Day with your song selection, whether it's "Addicted to Love" or "Love Will Tear Us Apart."
Bring some extra dollars as Beauty Bar offers unique drink specials all night long, including a signature martini and manicure to make sure you look your best this holiday.  Plus Zine Fest will hold a 50/50 raffle, splitting the pot that night with one lucky winner. Purchase raffle tickets for a chance to take home a nice holiday gift.
There is a $5 admission which will benefit the 2016 Chicago Zine Fest. The event beings at 8pm and is 21+.
About Chicago Zine Fest: Chicago Zine Fest (CZF) is a celebration of small press and independent publishers. CZF's mission is to showcase the culture and accessibility of zine-making through workshops, events, and an annual festival that welcomes artists and creators to share their stories, knowledge, and love of zines. Chicago Zine Fest 2016 takes place on April 29th and 30th, 2016. Visit chicagozinefest.org for more information.
Join the event on Facebook and invite your friends: https://www.facebook.com/events/545483928934905/
About Shameless Karaoke: Visit www.facebook.com/ShamelessKaraoke/
See the Shameless Karaoke list here to think about what song(s) you want to do!
Artwork by the lovely and talented Chicago artist Gina Wynbrandt (Big Pussy).
Quimby's is proud to co-sponsor Chicago Zine Fest, which is April 29th-30th, 2016.