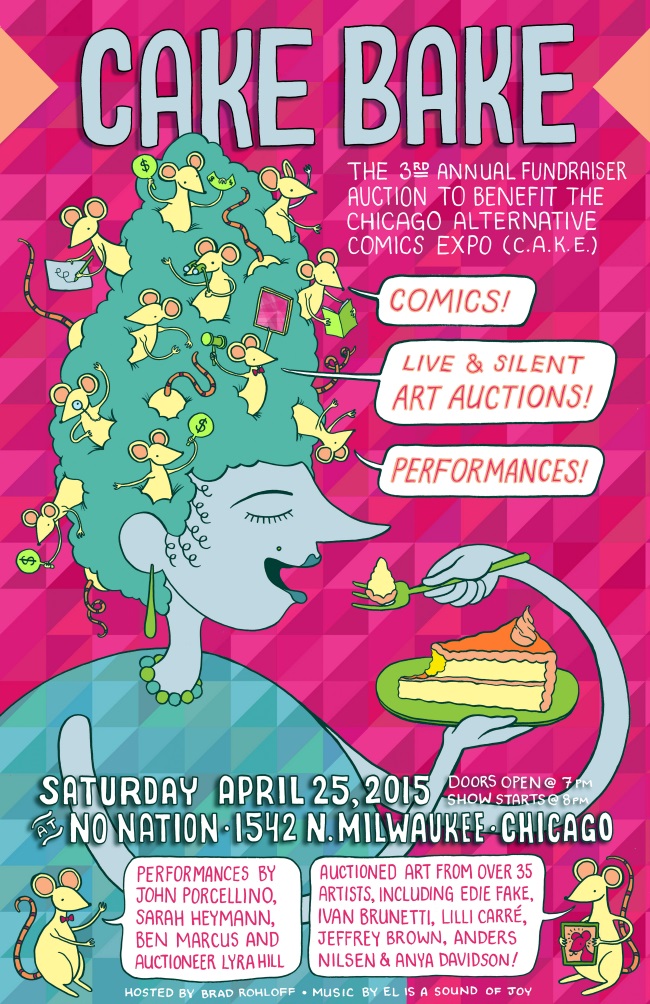 The Chicago Alternative Comics Expo (CAKE) will be holding its annual art auction fundraiser at 7:00 pm on Saturday, April 25th, at the NO NATION art gallery, located at 1542 N. Milwaukee Ave. in Chicago's Wicker Park neighborhood. The event, called CAKE Bake, will be hosted by Lyra Hill, a well-known Chicago cartoonist and filmmaker.
The event will feature live and silent auctions of over 30 pieces of art by cartoonists from Chicago and elsewhere, including Jeffrey Brown, Ivan Brunetti, Lilli Carre, Anders Nilsen, Lucy Knisley, Edie Fake, Keiler Roberts, and Anya Davidson. In addition, live comics readings will be performed by Lyra Hill, John Porcellino, Sara Heymann of the Mortville Collective, and Ben Marcus.
Max Morris, a member of CAKE's organizing committee, said, "We are very excited to hold CAKE Bake, which has been a great success for us in the past. As a volunteer-run non-profit event, we rely on fundraisers like this to make each year's CAKE a success, and we greatly appreciate the support we get from the local comics community, especially all the pieces of art that our great cartoonists have donated. We're really excited about this year's CAKE, in which we're going to be offering hands-on workshops for the first time, as well as programming featuring our amazing special guests, including Jillian Tamaki, Eleanor Davis, Jaime Hernandez, Gilbert Hernandez, Dash Shaw, and Zak Sally. We think this year's CAKE is going to be the best one yet, but that doesn't mean we're going to stop trying to keep making it better and better."
The Chicago Alternative Comics Expo [CAKE] is a weekend-long celebration of independent comics, inspired by Chicago's rich legacy as home to many of underground and alternative comics' most talented artists– past, present and future. Featuring comics for sale, workshops, exhibitions, panel discussions and more, CAKE is dedicated to fostering community and dialogue amongst independent artists, small presses, publishers and readers.The Fourth Annual CAKE will take place on Saturday, June 6 and Sunday, June 7, 2015, at the Center on Halsted, 3656 N Halsted Ave. in Chicago.
Quimby's Bookstore is proud to be a CAKE co-sponsor.
More info:
cakexpo(at)gmail(dot)com