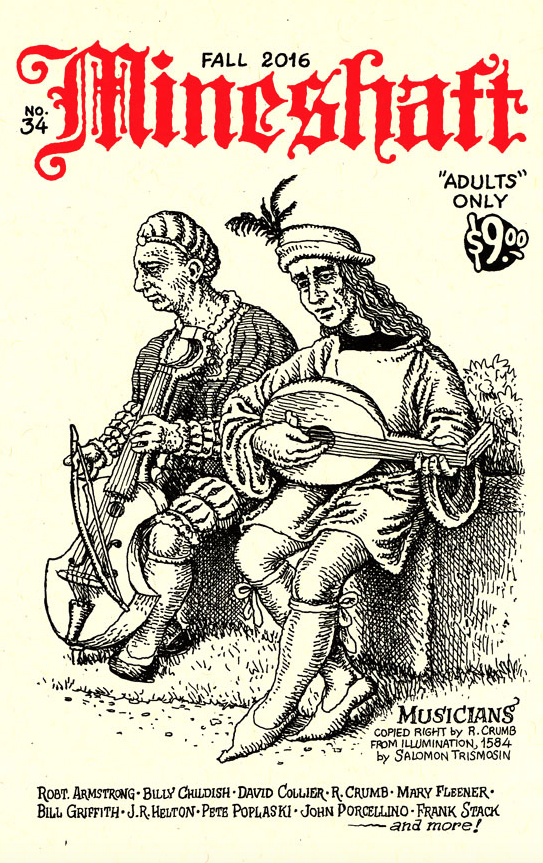 Mineshaft #34 $9.00 – 52 page anthology from the depths with beautiful front cover art & design by Robert Crumb! Excerpts from R. Crumb's Dream Diary and R. Crumb's Sketchbook art! Billy Childish poetry Special Centerfold section "if theyve got what you want theyve got you"! "Springtime for Hitler in America" by J.R. Helton! Bill Griffith's Romance 6 "ZIPPY" Comics! John Porcellino! Jim Blanchard! Noah Van Sciver! Nina Bunjevac! Mary Fleener! David Collier! And more!
*Zines*
Library Excavations #5 A Handbook of Library Ideas by Dale E. Schaffer (Half Letter Press) $6.00
Egoist #1 On Sexual Assault by Olive Panter $4.00 – Heart Breakingly Compelling.
La Croix Water zine by Russell Jaffe $10.00
*Comics & Minis*
Love and Rockets Magazine #1 by Gilbert and Jamie Hernandez (Fantagraphics) $4.99 – The new Love and Rockets marks Gilbert and Jaime's return to the "floppy" format for the first time in a decade. 32 pgs! On Jaime's side: What do you do when none of your old punk friends want to be punk any more? And just who does the evil Princess Animus think she is? (Hint: She doesn't know, she has amnesia.) On Gilbert's side: Family drama takes center stage when a Fritz discovers a grandchild she didn't know existed! Old fans and new fans are sure to enjoy the most diverse cast of characters in comics, including Maggie, Hopey, Pipo, Fritz, Tonta, Baby, and many more! Plus other surprises! Grrrowl!
You Don't Get There From Here #41 by Carrie McNinch $3.00 – More awesome and compelling journal comics from long time mini-comicser.
Work In Progress #2 by August LeRoi $7.00
Center For Otherworld Science #4 by Shing Yin Khor (Sawdust Press) $8.00
Faraway Beach by Nathan Cowdry $5.00 – This mini-comic ages like a fine wine with a full pervy base accompanied by notes of complex emotion, lolz and fragile egos. The author seems sexually obsessed and much of the story revolves around the male gaze, however the objects of desire are much more than just that. There's a possible dog murder, rejection of pubic grooming and several sexy ladies holding large guns, giving them a feminist touch. Gorgeous drawings and solid story telling make this gem a must read. NSFW. ~CH
*Graphic Novels*
Yours by Sarah Ferrick (2dCloud) $23.95 – A lyrical, sensual collection of work that plays with comics' conventions of repetition and pattern. From a Chicago local.
Forbidden Brides of the Faceless Slaves in the Secret House of the Night of Dread Desire by Neil Gaiman, illustrated by Shane Oakley & Nick Filardi (Dark Horse Comics) $17.99 – Somewhere in the night, a raven caws, an author's pen scratches, and thunder claps. The author wants to write fiction: stories about frail women in white nightgowns, mysterious bumps in the night, and the undead rising to collect old debts. But he keeps getting interrupted by the everyday annoyances of talking ravens, duels to the death, and his sinister butler.
Extended Play by Jake Terrell (2dCloud) $18.95 – Comics with a loose, confident line, often focusing on a youth-centric cast of characters written into magical realist or measured fantastical narratives. From Brooklyn-based artist.
*Art & Design Books*
See Red Women's Workshop: Feminist Posters 1974-1990 by by Prudence Stevenson etc. (Four Corners Books) $45.99 – A feminist silkscreen poster collective founded in London in 1974 by three former art students, the See Red Women's Workshop grew out of a shared desire to combat sexist images of women and to create positive and challenging alternatives. Details the group's history up until the closure of the workshop in 1990, and with a foreword by celebrated feminist historian Sheila Rowbotham.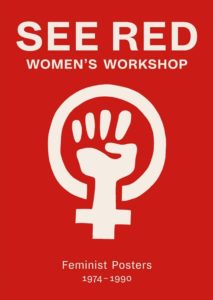 *Fiction*
Eisentein's Monster by AV Bach $18.00
*Essays*
All Tomorrow's Parties A Memoir: by Rob Spillman $16.00 – Now in soft cover! A colorful, music-filled coming-of-age portrait of an artist's life that is also a cultural exploration of a shifting Berlin.
*Magazines*
MaximumRocknRoll #405 Feb 17 $4.99
Mojo #279 Black Sabbath $10.99
True Crime Jan 17 $9.99
Inked #82 Pinup Issue Feb 17 $6.99
Under the Radar #59 Dec 16 $5.99
Dissent Win 17 $10.00
THC the Hemp Connoisseur Win 17 $6.99
ASR #69 Win 17 Trumpocalypse $5.00
Rethinking Schools vol 31 #2 Win 16 17 $5.95
*Poetry*
Wait Till I'm Dead: Uncollected Poems by Allen Ginsberg, edited by Bill Morgan $16.00
*SeXXXY*
Spunk #11 $10.00