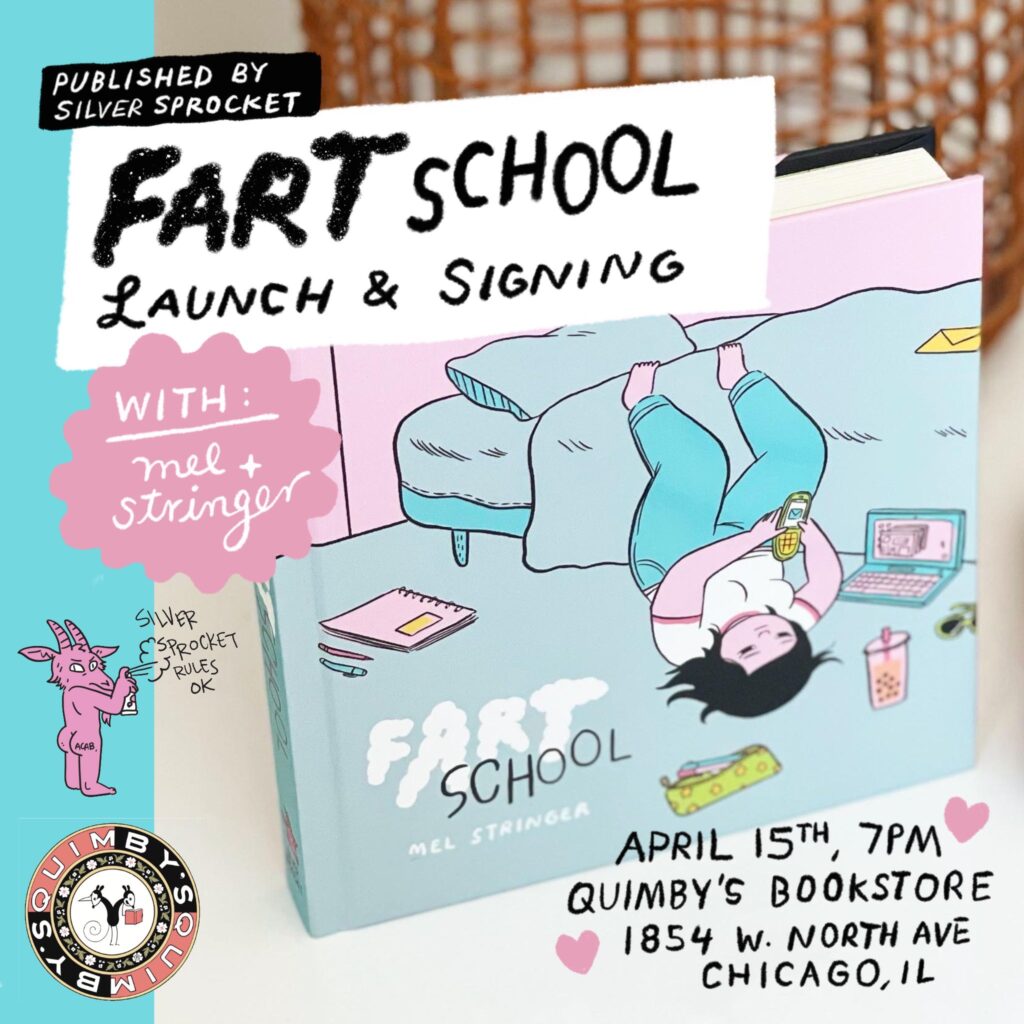 Quimby's welcomes Mel Stringer to celebrate the release of her graphic novel Fart School published by Silver Sprocket on Saturday, April 15th and 7pm here in person at 1854 W. North Ave in conversation with comics artist Kevin Budnik, for a night of talking and signing.
Based on the author's experience attending art school in the early 2000s, Mel Springer's Fart School is a funny, heartfelt graphic novel will resonate with anyone who had a youthful dream—or a DeviantArt account. The book chronicles Mel's excitement about moving to Brisbane to start art school where she imagines collaborating with other artists in a vibrant community, honing her craft, and becoming an accomplished artist. But it turns out that art school isn't quite the same in real life. Can Mel finish college with her love of art still intact?
Mel Stringer was encouraged to be creative from an early age and remembers spending most of her free time drawing all through her schooling years. Her work spans across mediums, including comics and illustrations, all autobiographical and influenced by her surroundings in one way or another. Mel was brought up in the Northern Territory of Australia, finishing high school in Darwin. She then traveled across the country to study art in Brisbane, in hopes of starting her art career and meeting more like-minded people. Now based in St. Louis, Missouri, with her husband, she spends her days creating autobiographical comics in the form of the zine Flowery, about what it's like being a Filipino-Australian living in the USA. Fart School is her first graphic novel. She has long been a consignor at Quimby's, where she sells her diary comic Flowery. Find her on the web at instagram.com/melstringer.
Mel will be in conversation with local mini-comics artist and Quimby's friend Kevin Budnik, whose diary comics have been called "painful" in a complimentary sense. Born in Chicago, graduate of Columbia College, Kevin makes work exploring depression, compulsive behaviors, mental illness, queerness, cats, and death. Find him on the web at instagram.com/kevin_budnik. He publishes the ongoing mini-comics series I Hope This Finds You.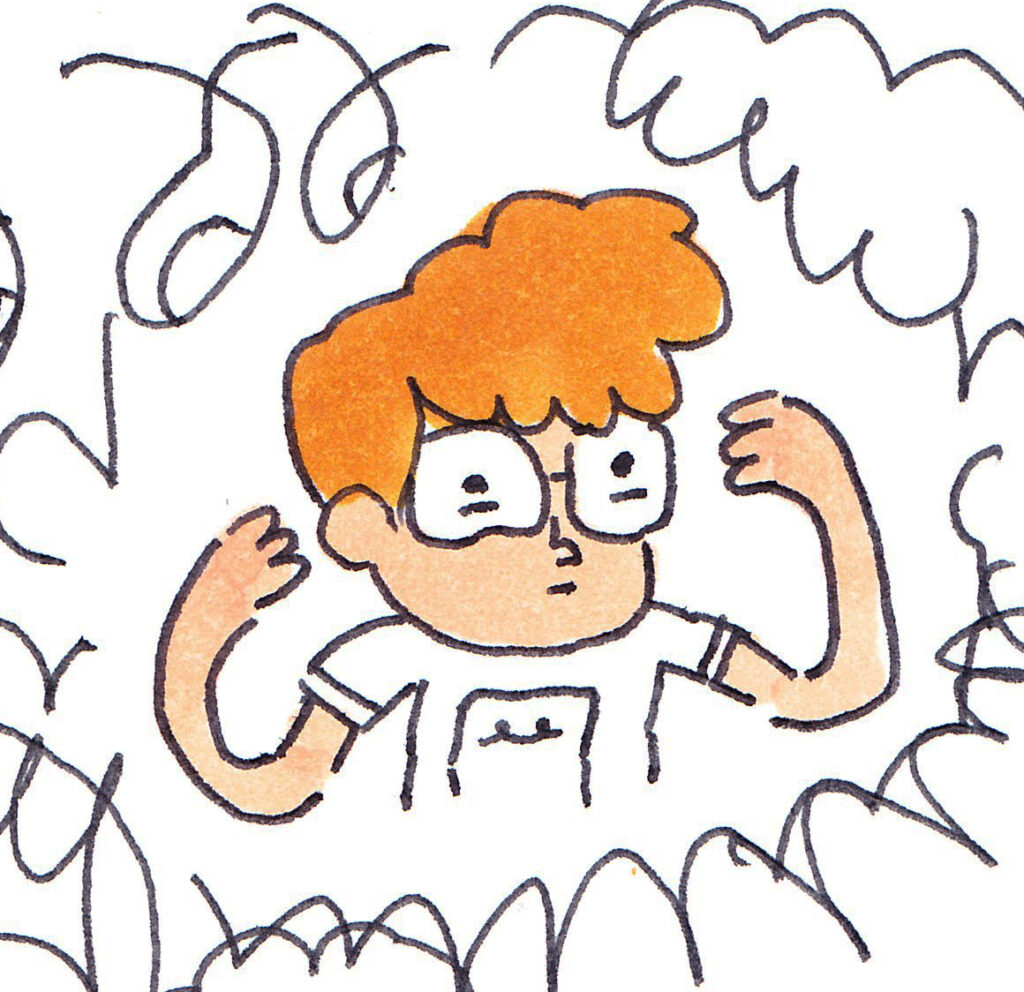 Reviews of Fart School:
"A relatable exploration of the difficulties of making it in the art world." – Booklist
"Devotees of Dan Clowes's beloved teenage dramadies will appreciate Stringer's neurotic, angsty worldview as she tries to find her way in the adult world. Though most likely to strike a chord with actual past and present art school comrades, any reader who's ever felt like a fish out of water will be drawn in by the irresistible loose cartoony art style and cheery color palette. This funny portrait of the artist as a young adult is a charmer." -Publishers Weekly
"Mel Stringer's art and storytelling talent shine in this brilliant, beautiful graphic memoir that's both personal and universal: the time somebody starts to become their true self. Her brilliant artwork and storytelling are somehow both intensely personal and universal, as well as funny, poignant and real. The more you look at Mel Stringer's work, the more you see, and the more you realise what an awesome talent she is." -Kaz Cooke
Facebook event invite here.
Be extra prepared and purchase Fart School here!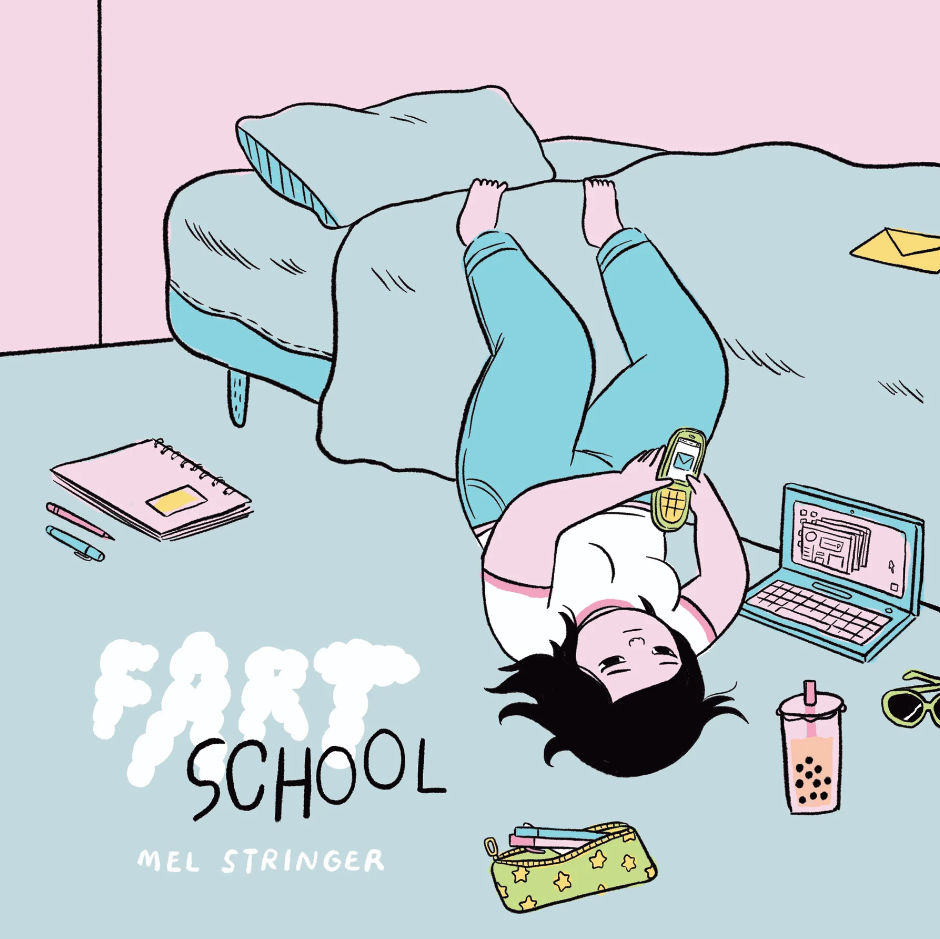 Hey! Remember when Mel did our awesome bookmarks?! We love them so much!