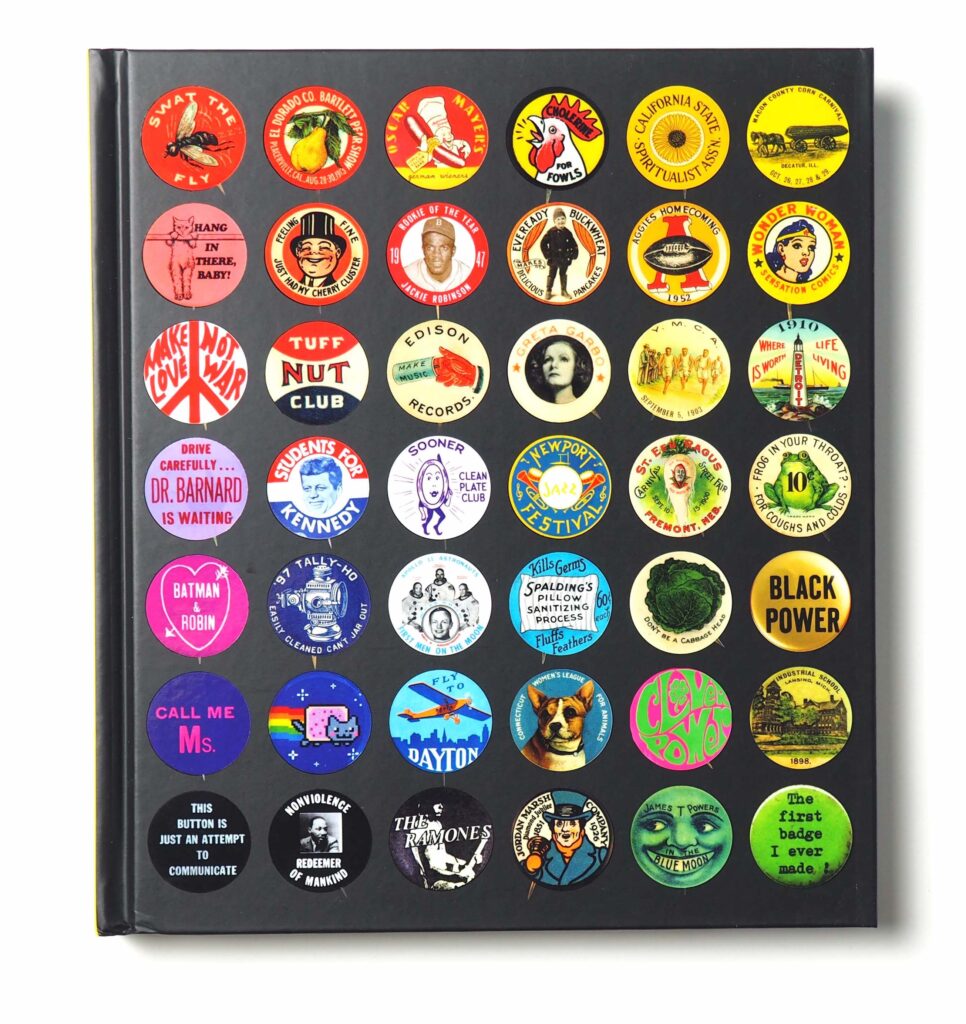 "Social media is today's most popular platform for self- expression, but the button preceded it as a way to tell others what was on your mind and as a tool to help spread an idea. No other form of wearable expression has yet to replace the humble button – and unlike social media, a button is something you can literally stand behind." – excerpted from BUTTON POWER: 125 Years of Saying It with Buttons by Christen Carter and Ted Hake
Punch line. Political Statement. Conversation piece. Souvenir. From the campaign trail to the rock tour, BUTTON POWER (Princeton Architectural Press) collects a people's history of American culture told through the pin-back button. Lively commentary from two of America's foremost button experts shows how the small but powerful button reveals the events and movements that outraged, amused, and inspired us over time, from the solo flight of Charles Lindbergh to the Black Power movement. In this chaotic time of protests and presidential elections, this book offers a glimpse into the cultural movements that make up our rich history. Artists, athletes, actors, politicians, punk and pop musicians, and mascots of the past 125 years make cameos, including Rube Goldberg, Muhammad Ali, the Ramones, Shirley Chisholm, and Bette Midler. The first book of its kind, BUTTON POWER is a rich visual feast. Each colorful spread chronicles defining moments in history through colorful photographs and artifacts. This collection will be an essential pick for fans of pop culture, visual culture, and design.
Don't miss this virtual event celebrating BUTTON POWER: 125 Years of Saying It with Buttons by authors Christen Carter and Ted Hake!
ABOUT THE AUTHORS:
Christen Carter is the founder of Chicago-based Busy Beaver Button Company and has produced more than 50 million buttons for bands, artists, political campaigns, non-profits and more. In 2010, she started the Button Museum, dedicated to telling American history through pin-back buttons.
Ted Hake is the founder of Hake's Auctions, America's first auction house to specialize in popular culture artifacts. He has written seventeen collectors' guides that span presidential campaign items, vintage Disneyana, and comic character toys. Ted has received the American Political Items Collectors Lifetime Achievement Award and is a member of the Theodore Roosevelt Association Advisory Board.
Fri, October 2nd, 7:30PM CST.
This virtual event will be on the Quimby's Bookstore's You Tube Channel: youtube.com/QuimbysBookstore
Stay tuned to quimbys.com/store for book ordering & swag to accompany your book (!!!) while supplies last.
NO RSVP necessary.
Here's the Facebook Event invite for this event.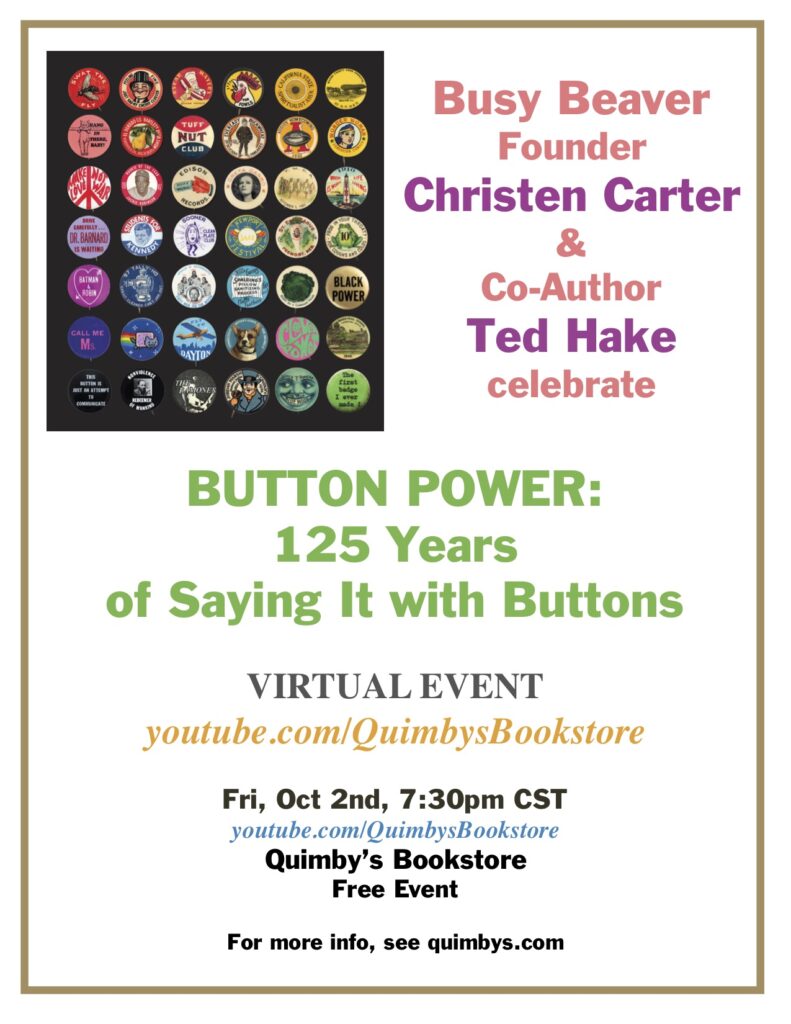 In advance, Christen Carter gave a us a preview of what's going to happen at the event!: