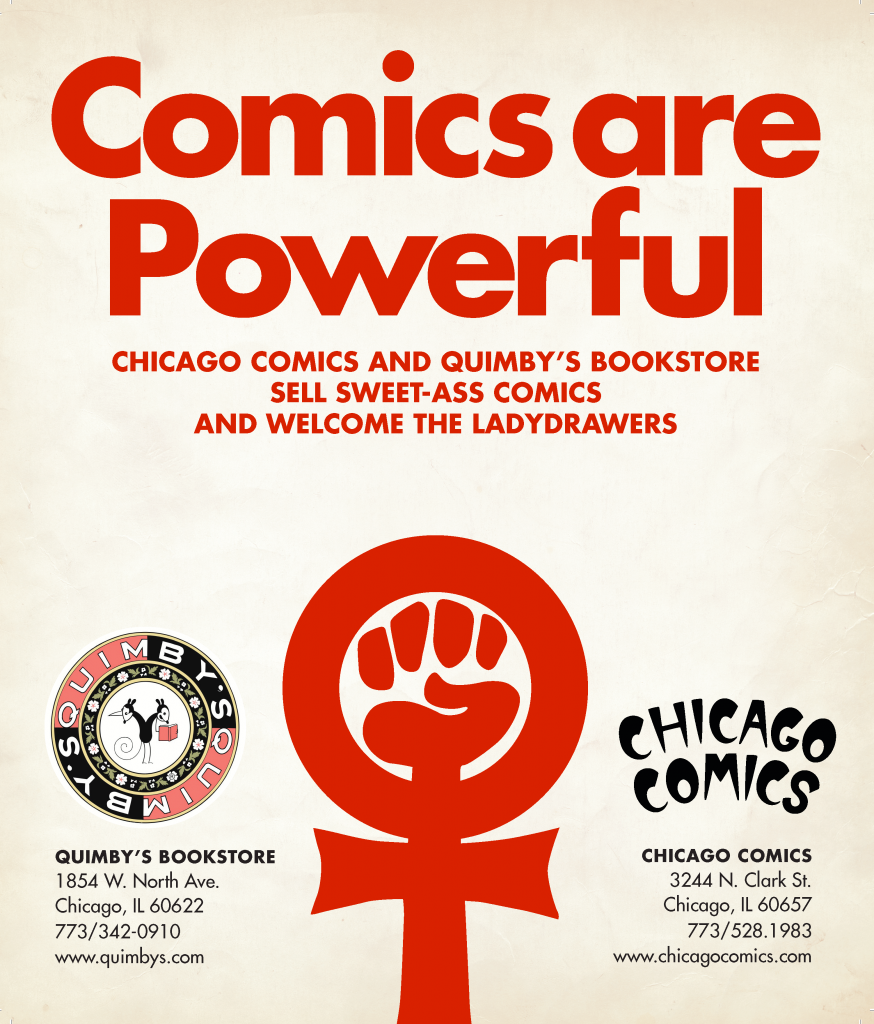 Beginning with the opening night spectacle, the gallery (Columbia's A+D Gallery, not Quimby's) will be activated through fun, radicalthinking, and art making, a space to observe and reflect on ideas of SEX, MONEY, RACE, and GENDER.  Instead of creating a catalog for the show, Quimby's is proud to co-sponsor a comics anthology including work by Robyn Chapman, Danielle Chenette, Clay Harris, Lyra Hill, MariNaomi, Corinne Mucha, Laura Szumowski, Lauren Weinstein.
SEX. MONEY. RACE. GENDER.  The Ladydrawers (of Chicago, IL)
Exhibition & Workshop Schedule
Opening Reception: June 27, 5:00-8:00 p.m.
Exhibit closes on July 27th
Curated by Anne Elizabeth Moore
S.M.R.G OPENING NIGHT EXTRAVAGANZA!
Featuring comedy, art making, readings, performance, and much more. Come explore issues of SEX, MONEY, RACE, and GENDER with a sprinkling of humor and pathos through stand up comedy, femcore anthems, live mural making, and interpretations of texts, personal readings (in the bathroom!), and even hula hooping. Join us, won't you?
Opening Night Performers
Sarah Bell, Blizzard Babies, Gretchen Hasse, Lyra Hill, Elliott Junkyard, Francis Kang, Ever Mainard, Carolina Mayorga, Katie McVay, Yasmin Nair, Polly Yates
Exhibition Participants
Nicole Boyett, Jacinta Bunnel, Danielle Chenette, Gretchen Hasse, Elliott Junkyard, Francis Kang, Carolina Mayorga, Melissa Gira Grant, Lyra Hill, Franny Howes, Nia King, Viet Le, Nicole Marroquin, Anne Elizabeth Moore, Sarah Morton, Liz Rush, Rachel Swanson, Laura Szumowski, Bonsovathary Uoeung, Lauren Weinstein, Sarah Welch, Elizabeth White, Mara Williams, Polly Yates
S.M.R.G Workshops
These workshops are collaborative and exploratory projects lead by outstanding cultural producers and thinkers—all amazing, smart people that you will like very much.
Radical Noticing: Riot Grrrl Press and Contemporary Comics
May Summer Farnsworth and Jamie Davida Lee
Saturday, June 29, 2013 2:00-4:00 p.m.
May Summer Farnsworth will discuss her experiences working on the formation of Riot Grrrl Press in 1993. Cartoonist Jamie Davida Lee will simultaneously lead a silent workshop on making comics and zines.
Lexicon of Sexicana
Esther Pearl Watson and Terri Kapsalis
Thursday, July 11, 2013, 5:30-7:30 p.m.
Speech balloons! Giant boons! Big muscles! The hundred-year-old lexicon of comics was developed by its most prominent practitioners, mostly straight white dudes. It's time to re-think the language of comics. Esther Pearl Watson and Terri Kapsalis will create a work exploring sexual health based on Mort Walker's satirical look at comics devices for cartoonists, The Lexicon of Comicana.
Life and Labor
Delia Jean Hickey and Sarah Jaffe
Thursday, July 18, 2013, 5:30-7:30 p.m.
We all know what it means to work, but what extra effort do certain forms of labor extract from us? This workshop explores what it takes to make an honest living, with a particular focus on the service industry.
Boi Band Poser Poster Workshop
Viet Le and Morgan Claire
Thursday, July 25, 2013, 5:30-7:30 p.m.
This workshop challenges identities and identifications through pop and props. Thinking through gender, race, and (inner and outer) space, participants will form and "perform" their own pop bands and solo acts. Fun FOBulous times!
Please note: these events are at the A+D Gallery at 619 S. Wabash Ave, Chicago, Il 60605, NOT QUIMBY'S BOOKSTORE.