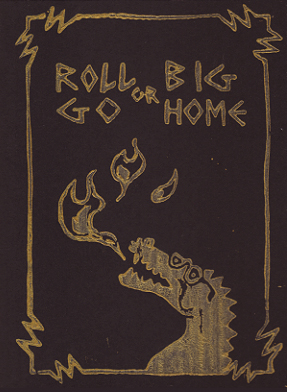 Big bucks, no whammies. This is how we roll. Roll Big or Go Home is at #10 this week.
1. My Friend Dahmer by Derf Backderf (Abrams ComicArts) – Don't miss Derf here on Thursday (Aug 9th) at 7pm, where he'll take about this graphic novel he did about his experiences knowing Jeffrey Dahmer in high school!
2. The Baffler #20 $10.00 –  In this summer issue, decomposing cities that tremble with vibrancy, art museums where cash-and-carry aesthetics is the rule, journalists on the endless education of the president, and imperial foundations and their pet broadcasters on public radio. Where else can you learn why Ira Glass's This American Life is so damn annoying, or take in the lame, postideological pantomiming of Jon Stewart and Stephen Colbert, or admire the performance art of Harvard fraud Adam Wheeler and laugh at the Ivy mothership's efforts to smite the pretender down?
3. Sweetmeats #1 by Edie Fake $2.00 – This is the story I did for Max Morris' awesome anthology Vacuum Horror last winter, reprinted as a little mini so I have something to offer when folks wanna trade zines. -EF
4. Lucky Peach #4 Sum 12 The American Food Issue – The McSweeney's food rag rampages on with the American Food Issue. Less cranky then issue 3, this round has a sprawling Tex-Mex choose your own adventure, plenty of odes to diners and, unsurprisingly, the movie Diner, Cambodian American doughnut culture, Harold McGee being typically delightful and loads of recipes looking that scrummy kinda yummy you know tastes fine. -EF
5. Real Life: A Magical Guide to Getting Off the Internet by Maranda Elizabeth and Dave Cave $3.00
6. Womanimalistic #1 by Caroline Paquita $5.00 – "Amazing Amazing Amazing. Recipes for Fire Cider and Krotchbucha. Ridiculously funny comics about Vajazzling, punker health fiascos (such as the ol' "Hash Brown Cure") and urban hiving. Gorgeously patterned comics about love and loss and coming down with a case of The Going Crazies. I've been reading the Carson McCullers comic that opens this book over and over and over again – it keeps bringing me close to tears. Highest honors. Lovingly risographed in blue." -EF
7. Night Riders by Matt Furie (McSweeney's) $15.95 – Where's Matt Furie been lately? Apparently he's been squirreled up drawing a truly stunning and mind-bending wordless children's book for McSweeney's, and I couldn't be more excited about the fruits of his labors. Night Riders is truly awesome – cool animal-monsters staying up all night on a journey through a glowing nocturnal world, rendered in some ultralush colored pencil jewel hues. I love the chillpill laffs of Boy's Club aplenty – however this is a different trip altogether: magic and riches with perfect delivery. A great kid's book, and a great graphic novel to boot. -EF
8. Elephant Ear #1 by Jeremy Tinder $8.00 – Jeremy Tinder launched this beast at CAKE a few months ago: deluxe stories of slipping, surreal illness and alone time. Paced a little like a Murakami story, I'd say- the richness of a character staring into space, the practicality of the mothman stealing batteries, the resignation to finding a tooth in your eyesocket. -EF
9. Dig Deep #4 by Heather $1.00 – Local-based perzine by a rad librarian.
10. Roll Big or Go Home by Rio Safari $2.00 – Cute lil love letter to fantasy, D&D and punk nerdery. Rad title, too. -EF