"If you want to read a heavy story about a disturbing teenager, My Friend Dahmer will certainly quench your dark little desires. But this book is about a lot of other things that matter much, much more: the institutionalized weirdness of the suburban seventies, what it means to be friends with someone you don't really like, a cogent explanation as to why terrible things happen, and a means for feeling sympathy toward those who don't seem to deserve it."
— Chuck Klosterman, author of Sex, Drugs, and Cocoa Puffs and The Visible Man
"A solid job. Putrid serial killer Jeffrey Dahmer's origins are explored in this fine book. Dig it—it'll hang you out to dry."
— James Ellroy, author of My Dark Places and L.A. Confidential
My Friend Dahmer (Abrams ComicArts; March 2012; Non-fiction; Graphic Novel; Paperback $17.95; ISBN: 978-1-4197-0217-4; Hardcover $24.95; ISBN: 978-1-4197-0216-7) is an original graphic novel that gives a unique perspective on the notorious serial killer Jeffrey Dahmer. To the public, Dahmer was a monster who committed unthinkable atrocities. To Derf Backderf, he was "Jeff," a high school friend with whom he had shared classrooms, hallways and car rides. Using a combination of his own memories and journals, conversations with old friends, and Dahmer's interviews and transcripts, writer-artist Backderf unveils a surprisingly sympathetic portrait of a disturbed young man—a shy kid, a teenage alcoholic, and a misfit who never quite fit in with his classmates—struggling against the morbid urges emanating from the deep recesses of his psyche.
My Friend Dahmer:
offers fascinating and disturbing answers to the question, "What was Jeffery Dahmer like as a kid?"
raises the question "Could these murders have been prevented?"
touches on the issues of bullying, teen alcoholism, and the role of parents and teachers in a troubled teen's life.
About the Author:
Derf Backderf lives in Cleveland, Ohio. He has been nominated for two Eisner Awards and has received a host of honors, including the prestigious Robert F. Kennedy Journalism Award for political cartooning. His weekly comic strip, The City, has appeared in more than 100 newspapers over the past 22 years.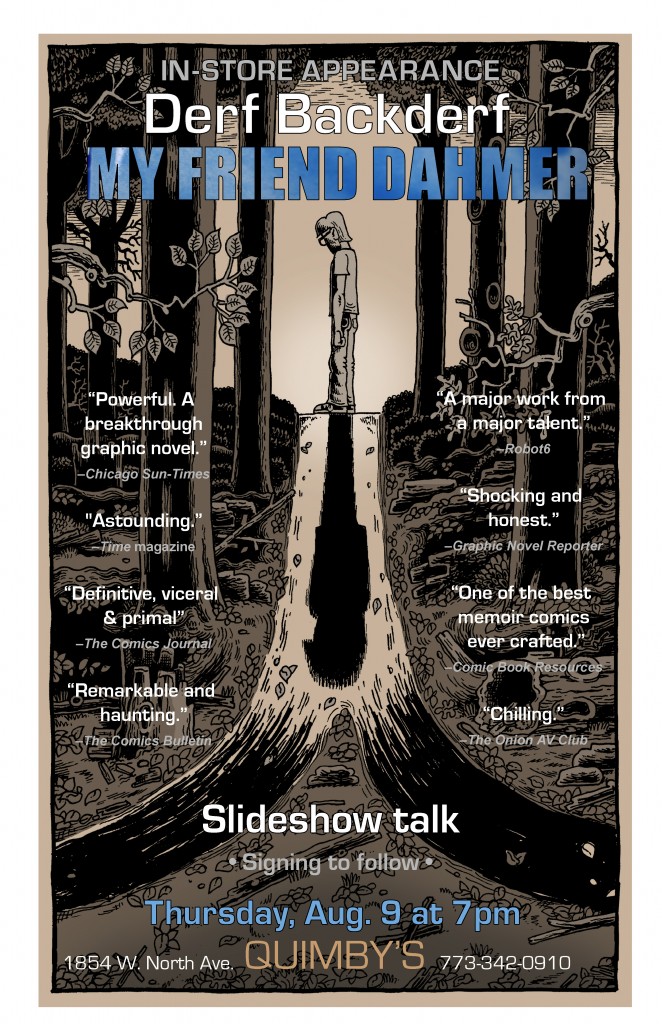 Thurs, Aug 9th, 7pm
The author is available for interviews, and images are available upon request. Contact: Katrina Weidknecht, Executive Director, Publicity, kweidknecht@abramsbooks.com