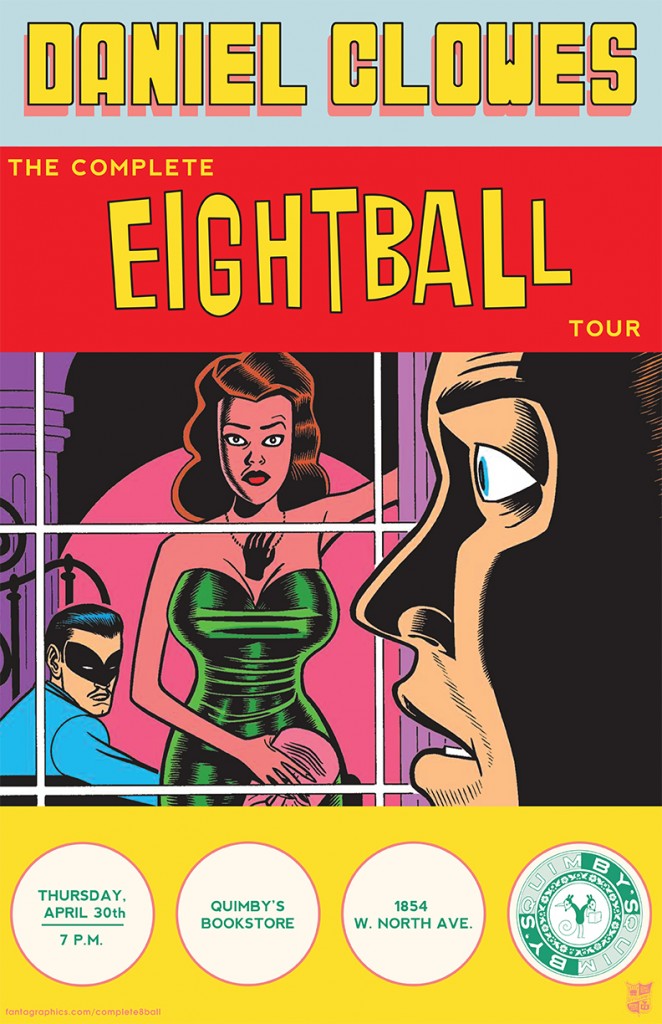 Daniel Clowes's new book The Complete Eightball 1-18 (Fantagraphics Books) collects 18 issues of the beloved comic books series Eightball, originally published between 1989 and 1997, and widely considered to be one of the greatest and most influential comic book titles of all time. Before he rose to fame as the author of bestselling graphic novels Ghost World, Ice Haven, and Daniel Boring, Clowes made his name with such seminal serialized graphic novels/strips/rants as "Like a Velvet Glove Cast in Iron," "Ghost World," "Art School Confidential," "Glue Destiny," and so many more, including many never reprinted before now. For this 25th Anniversary, Fantagraphics is collecting these long out-of-print issues in a slipcased set of two hardcover volumes, reproducing each issue in facsimile form exactly as they were originally published.
"[Clowes's comics have] the perfect interplay between his tightly controlled artwork, the empty rage…simmering just beneath it, and just below that, a strangely simple yearning for simple and solid things, like, say, love…There's poetry in every panel." – Dave Eggers
The work of Daniel Clowes has been featured in The New Yorker, Time, Newsweek, Esquire, GQ, and many other magazines. He was the first cartoonist to be selected for Esquire's annual fiction issue in 1998, created the much-praised animated video for the Ramones' "I Don't Wanna Grow Up," designed the poster illustration for Todd Solondz's Happiness, and has contributed numerous memorable covers to The New Yorker.
In 2001, the adaptation of Ghost World, based on a script by Clowes and director Terry Zwigoff, earned an Academy Award Nomination for Best Adapted Screenplay and won the Independent Spirit award. He currently has several film projects in development.
For more info:
fantagraphics.com/complete8ball
Thursday, April 30th, 7pm – Free Event