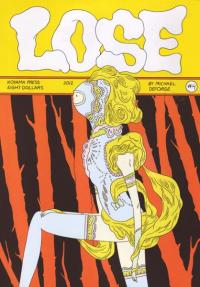 Lose #4 by Michael Deforge (Koyama Press) $8.00 – Tremendous! DeForge's well-oiled line skates through the Stud File, each story shedding it's snakeskinnery onto the next. From leather terror to royal lace to Stacyface, this issue is an ode to the body as a husk and an assault on the idea of corpus control. Flesh, rendered alternately as vampirically smooth and bacterially roccoco is bound up in narratives of contemporary methods of "information sharing" and "social networking" and the effect is straight up cut-to-the-bone sci fi plastic surgery. Witty, sly and lovely to hold exuding a warm Canadian glow. -EF
Zines & Zine-Related Books
Zines 101 Apr 12 How to Copy on Your Own Paper $2.00
Monsters Rock – various issues $2.50 each
Jesse Wars Here by Jesse Harris (Koyama Press) $10.00 – Harris throws down on the Old School New School – spot color popaganda harkening back to when graphic design required exacto blades and you did your halftones with mesh.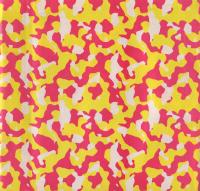 Ilse Content Anthology by Alexis Wolf $14.99
Brooklyn to Mars #2 $8.00
How I Quit School #3  by Julie $3.00
Rad Dad #22 Riot Parent by Tomas Moniz $4.00
Make Your Own Ginger Ale $1.00
Permanent Vacation #2 Simulacra a Zine About the Thrilling World We Live In by Kerry Ann Lee $20.00
Slut, ed. by Jonas, Nichole and Carrie $5.00 – Zine anthology in support of Slutwalk 2012. Contributions about sexual harassment, assault and other relevant topics.
Clearance Catalogue #1 $2.00 – Stuff on clearance. For real.
Comics & Çomix
Building Stories Deluxe Edition: Everything You Need to Erect Your Very Own Multi Story Building by Chris Ware (D&Q) $79.95 – Only 1000 copies of this version of the hotly anticipated Building Stories. It's huge, expensive and awesome. Prints can be made into models. Don't miss Chris Ware signing here at Quimby's on Oct 14th!
Wayward Girls #2 by Michiel Budel (Secret Acres) $6.00 – It's like the aftermath of great wars of The Realms of the Unreal plus a little more Charisma, Uniqueness Nerve and Talent if you catch my drift. -EF


Comics by Leah Wishnia: Happiness Comix #1 and #2, etc.
I Just Want to Walk Around Naked and do Whatever I Want #1 by Mary Beth Brennan $5.00
Graphic Novels & Trade Paperbacks
Drawn Together: Complete Works from Aline Cominsky Crumb and R. Crumb $29.95 – Rumored for years, Drawn Together finally charts the daily exploits and erotic craziness of this "First Couple" of comics.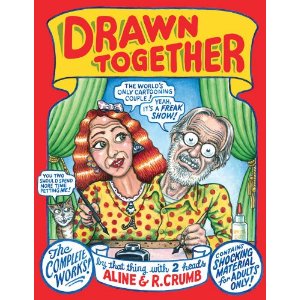 Koyama Press graphic novels: Big Team Society League Book of Answers by The Team Society League (A. Costain, J. Martz, S. Wolfhard, Z. Worton), Infinite Wait and Other Stories by Julia Wertz
Stupid Dreams: The Complete Five Minute Comics Collection by Joey Alison Sayers (1984) $12.00
Barack Hussein Obama by Steven Weissman (Fantagraphics) $22.99
Naked Cartoonists by Gary Groth (Fantagraphics) $22.99
Buz Sawyer vol 2 Sultrys Tiger (Fantagraphics) $35.00
Adventures of Leeroy and Popo Louis Roskosch (Nobrow) $13.95
Little Death by Thomas Kriebaum $14.99
Hipster Hitler by James Carr & Archana Kumar (Feral House) $16.95
Saga of the Swamp Thing Book 2 TPB by Alan Moore et al. $19.99
Walking Dead Book Eight HC by Robert Kirkman et al. $34.99
Art, Design & Photography
Where the Why and the How: 75 Artists Illustrate Wondrous Mysteries of Science ed. by Jenny Volvovski, Julia Rothman and Matt Lamothe $24.95
Hip Hop Apsara Ghosts Past And Present by Anne Elizabeth Moore (Green Lantern Press) $20.00 – Following on the heels of Cambodian Grrrl: Self-Publishing in Phnom Penh, Anne Elizabeth Moore compiled photographs that document Cambodia's bustling nightlife, the nation's emerging middle class, and the ongoing struggle for social justice in the beautiful, war-ravaged land. Thanks to everybody that came out for this wonderful event last night, for a night of slides, discussion and Cambodian electronic bleepblops from Peter and Jessica Speer.
Fiction
Narrows by M. Craig $12.00
Mexico in the Rearview Mirror: A Psychedelic Travelogue by Michael Tassone $14.99
Lava in My Bones by Barry Webster (Arsenal Pulp) $16.95
When the Drumming Stops by Steven Wishnia (Manic D Press) $15.00
Inside The Whale: A Novel in Verse by Jospeh G. Peterson, with illustrations by Michael Brehm (Wicker Park Press) $16.00
Mayhem, Miscreants, Memoirs & Misc
I Want My MTV: The Uncensored Story of the Music Video Revolution by Rob Tannenbaum and Craig Marks $20.00 – Revised with new Interviews and in soft cover. Wubba wubba wubba.
Super Mario: How Nintendo Conquered America by Jeff Ryan $16.00
Dead Roam the Earth: True Stories of the Paranormal From Around the World by Alasdair Wickham  $15.00
Several Ways to Die In Mexico City: An Autobiography by Kurt Hollander (Feral House) $22.95
Let Me Clear My Throat by Elana Passarello $15.95 – From Farinelli, the eighteenth century castrato who brought down opera houses with his high C, to the recording of "Johnny B. Goode" affixed to the Voyager spacecraft, Let Me Clear My Throat dissects the whys and hows of popular voices, making them hum with significance and emotion. There are murders of punk rock crows, impressionists, and rebel yells; Howard Dean's "BYAH!" and Marlon Brando's "Stella!" and a stock film yawp that has made cameos in movies from A Star is Born to Spaceballs. The voice is thought's incarnating instrument and Elena Passarello's essays are a riotous deconstruction of the ways the sounds we make both express and shape who we are—the annotated soundtrack of us giving voice to ourselves.
Anxiety is a Rambling Dagger by Ian Kahl $10.99
Never Leave Your Block Adventures in Urban Living by Scott Jacobs (Wicker Park Press) $14.95 –  In this intimate portrait of his neighbors, Jacobs weaves his own experiences with a bright, funny look at how urban communities like Bucktown are shaping the future of Americas cities. Don't miss author Scott Jacobs here at Quimby's on Nov 15th!
Politics & Revolution
We Are Many: Critical Reflections on Movement Strategy from Occupation to Liberation by Kate Khatib, Margaret Killjoy, Mike McGuire and David Graeber (AK Press) $21.00
Revolt and Cirsis In Greece Between a Present Yet to Pass and a Future Still to Come by Antonis Vradis and Dimitris Dalakoglou (AK) $18.00
19 & 20: Notes for a New Social Protagonism: An 18th Brumaire for the 21st Century, Translated by Nate Holdren & Sebastián Touza (Autonomedia) – On December 19th and 20th, 2001, when in the heat of an economic and political crisis, people in Argentina took to the streets shouting "¡Qué se vayan todos!" These words – "All of them out!" – hurled by thousands banging pots and pans, struck at every politician, economist, and journalist. These events opened a period of intense social unrest and political creativity that led to the collapse of government after government.
Justice Justice Shall You Pursue: A History of New Jewish Agenda by Ezra Berkley Nepon $13.00
My People Are Rising: Memoir of a Black Panther Party Captain by Aaron Dixon (Haymarket) $17.95
Message to the Movement by Jamal Mumia Abu (Zuccotti Park Press) $7.00 – part of the Occupied Media Pamphlet Series.
Sex Guides, Culture & Gender Theory
On Being Different: What It Means to be a Homosexual by Merle Miller $13.00
Magazines
Maximumrocknroll #353 Oct 12 $4.00
Bust Oct Nov 12 $5.99
Kinfolk vol 5 A Guide For Small Gatherings $18.00
IdN vol 19 #4 $17.50
ArtForum Oct 12 $10.00
Creative Review Sep 12 $14.99
Paranoia #53 $7.00
Bizarre #193 Oct 12 $10.50
Hunter Fashion Magazine #21 $24.99
Little White Lies #43 $9.99
Camera Obscura #80 Feminism Culture and Media Studies $12.00
Camera Obscura vol 5 Fall 12 $12.95 – Yes, there are 2 different magazines called Camera Obscura.
Cinema Retro vol 8 #24 $11.99
Empire Oct 12 $9.99
Uncut Paul Weller Ultimate Music Guide $13.99
Signal to Noise #64 Fall 12 $4.95
Decibel #97 Nov 12 $4.95
Mojo #227 Oct 12 $9.99
Wire Sep 12 #343 $9.99
In These Times Oct 12
Z Magazine Oct 12 $4.95
Poetry, Lit Mags and Lit Journals
2 Sonnet Youth chap books by Jeffrey Lewis. As in sonnets about Sonic Youth albums. One is about Confusion Is Sex Plus Kill Yr Idols and the other is Goo. Bizarre and hilarious. $1.00 each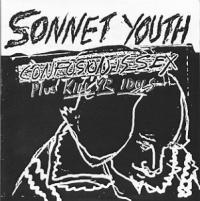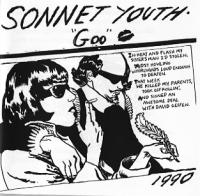 Pank #7 $15.00
Matrix #93 $8.00
The Paris Review #202 $15.00
Fourteen Hills vol 18 #2 2012 $9.00
Zoetrope All Story Fall 12 vol 16 #3 $8.00
Poetry Oct 12 $3.75
Childrens
Trip to the Bottom of the World with Mouse by Frank Viva $12.95
Other Stuff
"Prepare" 2013 Nikki McClure Calendar $16.00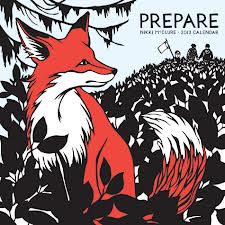 A whole mess o'crazy novelties!:
Dashboard Eyeball Wiggler $6.00 – Yes, it has a fez. It's like if the Residents joined the shriners. On your dashboard!
Snake Oil Soap $6.00
Bendable Party Mustache $2.50
Bigfoot Air Freshener $2.00
Tipsy Squirrel Old Fashioned Moonshine Thermos $12.00
Emergency Google Eyes Stick On Adhesive $7.50
Octopus Porcelain Mug $9.50
Little Otsu Annual Weekly Planner vol 7 $18.00 – Fill in your own dates!
Notable Restocks
Blank cards and Planners from Buy Olympia and Little Otsu.
Charles H. Kerr titles like Memoirs of a Wobbly Haymarket Scrapbook, etc.
Crap Hound #5 Hands Hearts Eyes $12.00
Reading Is Sexy stickers and buttons
Zombie and Monster Finger Toys $.75 each
finger tentacles $2.00
Punkademics The Basement Show In the Ivory Tower by Zack Furness $20.00
CrimethInc titles like Work Capitalism Economics Resistance, Expect Resistance etc.
The Baffler #19 and #20
Love and Rockets New Stories vol 5 $14.99
'Za The Pizza Zine by Nicki Yowell $4.00
…and more!
The things listed in this list are at our brick and mortar store at 1854 W. North Ave. Occassionally we make some of it available for mail order on our website, but we curate what we put up there. To see which new items are on our website, see quimbys.com/store and mail order them for prompt home delivery.