Chronicles of Fortune by Coco Picard (Radiator Comics) $20.00 – Originally published as a series of minicomics, this quirky and idiosyncratic adventure of Fortuna, the greatest superhero (tragically stricken with ennui), is now collected into a single volume from Radiator Comics! Coco Picard's The Chronicles of Fortune follows the lives of Fortuna, and her alter-ego, Edith-May as they learn to cope with loss, recruiting a team of friends along the way! Discover a temperamental stove, a nosy mountain, a goofy crocodile, a loner moth, and a singing goldfish as they lead Fortuna on her greatest adventure! At once charming, sad, funny, poignant, and bizarre, The Chronicles of Fortune keeps one foot in mundane reality.
*ZINES*
Moon Archives vol 1 $12.00
Cheap Toys #19 $2.00
Star Spangled Banner by Joseph Wilcox $3.00
Japan Photo Zine $20.00
Field Study: Notes and Findings In the American Southwest $15.00
*COMICS & MINIS*
Babybel Wax Bodysuit by Eric Kostiuk Williams (Retrofit) $6.00
Good Guy #1 $4.00
Grixly #38 by Nate McDonough $2.00
Rainpuppy by James O'Boyle $12.00 – This happy little dog travels around much like Mary Poppins and encounters several different species of magical creatures upon the way. ~CH
Death Party by Mony Nunez $5.00
Murder Moon by Kristal DiFronzo $8.00
Curled Up Around A Wound by Opal Pence $12.00
Sweaty vol 1 $12.00
Bull Whip #1 All Time Comics by Josh Bayer and friends (Fantagraphics) $3.99
*GRAPHIC NOVELS*
The Artist by Anna Haifisch (Breakdown Press) $19.99 – A hilarious and heart-wrenching comedy exposing the absurdity of the fine art world as experienced by a young artist.
Red Red Rock: And Other Stories by Hayashi Seiichi (Breakdown Press) $26.99 – A definitive, career-spanning collection of stories from one of Japan's most famous alternative cartoonists, work from 1967 to the early 70s.
*ART & DESIGN*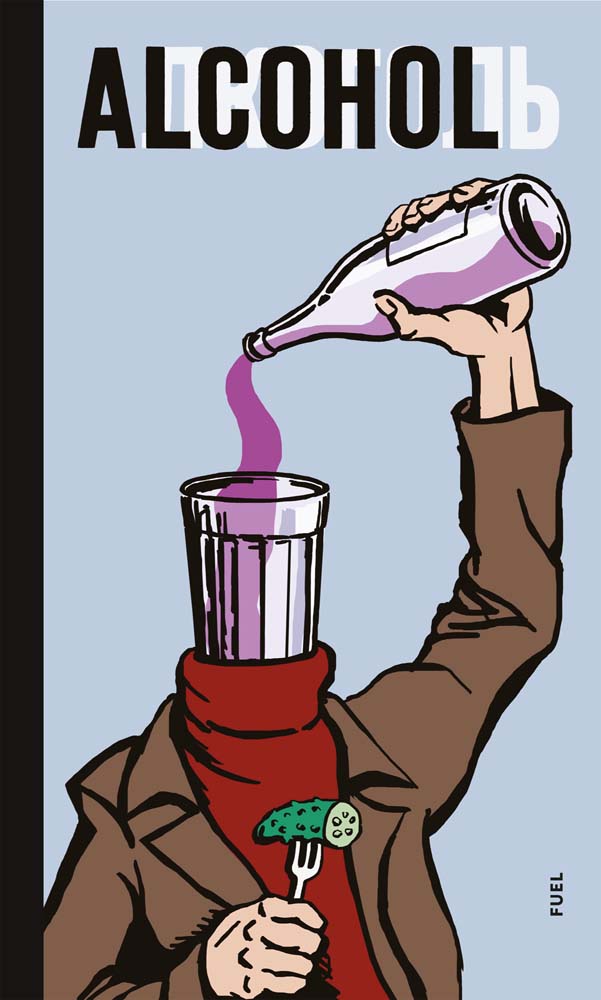 Alcohol: Soviet Anti-Alcohol Posters, edited by Damon Murray, Stephen Sorrell (FUEL Publishing) $32.50 – Playful yet sobering posters from the 1960s to '80s in the Soviet Union, from the publishers of the Russian Criminal Tattoo Encyclopaedias and Soviet Space Dogs.
Stickerbomb Graffiti Journal by SRK $12.99
THE THING Postcard Book: James Franco by James Franco and The Thing Quarterly $14.95 – Are there any hats that James Franco doesn't wear?
The Box by Brian McMullen $14.95 – Weirdo blank journal that lets you think both in and out of the box for once!
The Tattoo Flash Coloring Book by MEGAMUNDEN $15.99 – Includes a full-color, pull-out gatefold, and two sticker sheets.
*MUSIC & FILM BOOKS*
The New Analog: Listening and Reconnecting in a Digital World by Damon Krukowski (New Press) $24.95 – A radical defense of analog craft in the face of the digital hard sell, from former Galaxie 500/current half of Damon & Naomi. Don't miss Damon here at Quimby's on 5/2 with Steve Albini and Bob Weston talking about this book!
Prince: the Coloring Book, edited By Darius James (Feral House) $15.95 – If de-elevator tries to bring you down, go crazy…With crayons. Contributing artists include: Tony Millionaire, Corinne Halbert, Casanova Frankenstein, Mica O'Herlihy, and many more.
*FICTION*
Sorry to Disrupt the Peace by Patty Yumi Cottrell (McSweeneys) $24.00
*LOCAL INTEREST*
Chicago Monumental by Larry Broutman (Lake Claremont Press) $50.00 – Full-color photographs of over 250 Chicago statues, memorials, fountains, and monuments. Comes with 3D glasses for a special bonus section!
Chicago Unleashed by Larry Broutman (Lake Claremont Press) $29.50 – Whimsical, tongue-in-cheek modified photos that combine wildlife with Chicago landmarks created for a children's hospital. A real lion posing under the Art Institute lions! Hippos in the Chicago River! Kangaroos at Montrose Beach! You get the idea.
Draining Chicago: The Early City and the North Area by Richard Lanyon (Lake Claremont Press) $21.95 – The complicated, ever-changing, and surprising story of draining Chicago by retired executive director of the Metropolitan Water Reclamation District of Greater Chicago.
*MAGS*
Wire #398 Apr 17 Residents $10.99
AdBusters #131 vol 25 #3 May June 17 $14.95
Uppercase #33 A Magazine for the Creative and Curious $18.00
Offscreen #16 The Human Side of Technology $20.00
*CHAP BOOKS & LIT JOURNALS*
Number You Are Trying to Reach by Zachary Zalman Green $12.00
All Will be Fragile by Emily Greer #1 $5.50
Asterisms vol 1 An Anthology of Speculative Fiction and Poetry $15.00