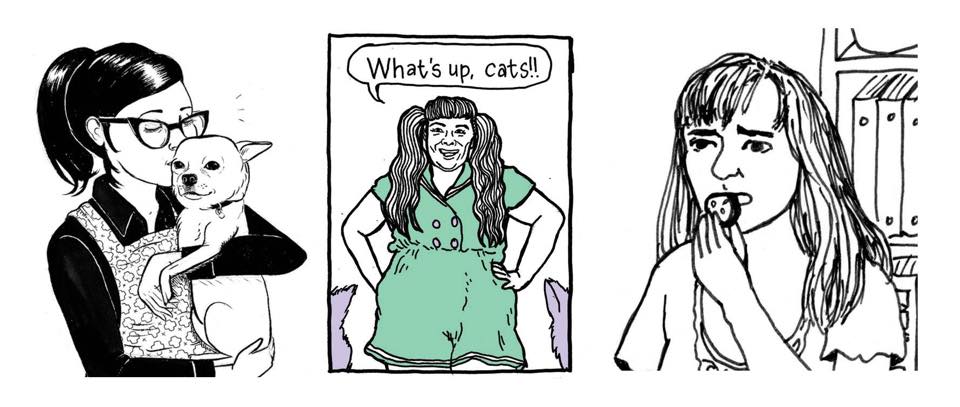 Nicole Georges will reading from her book, Calling Dr. Laura and discuss the process of making it, and will talk about her senior citizen zine project, Tell It Like It Tiz.
Keiler Roberts (Powdered Milk) and Gina Wynbrandt (Big Pussy) will read from their comics.
Info about Keiler Roberts here and Gina Wynbrandt here.
Nicole J. Georges is a writer and illustrator from Portland, Oregon. Her Lambda Award winning graphic memoir, Calling Dr. Laura, was called "engrossing, lovable, smart and ultimately poignant" by Rachel Maddow, and "disarming and haunting, hip and sweet, all at one" by Alison Bechdel, author of Fun Home. She has been publishing her own zines and comics for almost twenty years; and has toured the country extensively, including two appearances on Michelle Tea's Sister Spit tour. Nicole's diary comic zine, Invincible Summer, has been collected into two anthology books. Nicole was the 2013 Fellow at the Center for Cartoon Studies, where she was also on faculty. She won the Sunburst Award for Excellence in Arts Education in 2012, and currently teaches at California College for the Art's MFA in Comics Program.
In her spare time, Nicole writes an advice column for Bitch Magazine, publishes a yearly animal calendar, and volunteers with senior citizens at Portland's Marie Smith Center (she publishes a zine about these seniors, called Tell It Like It Tiz). She is currently at work on a graphic memoir called Fetch: How a Bad Dog Brought Me Home. It will be out with Mariner books in 2017.? More info:  nicolejgeorges.tumblr.com.