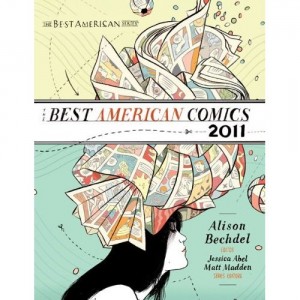 Alison Bechdel is guest editing THE BEST AMERICAN COMICS 2011.
"An insightful compilation."—USA Today
It is widely acknowledge that comics is, by and large, a printed medium, and in the foreword of THE BEST AMERICAN COMICS 2011, series editors Jessica Abel and Matt Madden trace the evolutionary print trends of this art form – from Sunday pages and daily strips to fanzines and minicomics to a mail art movement and self-publishing faction.  However, they also recognize that comics have invaded the digital medium, and many of the aforementioned DIY-ers have created a webcomics scene that parallels, yet doesn't necessarily intersect with, the print world.  In part as a reflection of this new trend, this year's volume of THE BEST AMERICAN COMICS features a first for this series: Kate Beaton's clever, buzz-worthy, and hilarious Hark! A Vagrant, the first included comic by an artist who emerged entirely from the webcomics scene.
Star guest editor Alison Bechdel, author of the seminal chronicle of lesbian lives and loves, Dykes To Watch Out For, and the highly-acclaimed graphic memoir Fun Home: A Family Tragicomic, continues this reflection on comics trends in her introduction.  Though she originally became a cartoonist because of its alternative, underground nature far from mainstream literary and art criticism, she acknowledges – and appreciates – the incredible growth spurt and popularity boost comics have undergone in the past decade.
Submission after submission, Bechdel writes, shows how cleverly, confidently, and infectiously young comics are playing with the balance of art and language.  Selections like Brendan Leach's Pterodactyl Hunters about fictionalized 1904 New York, Chris Ware's Jordan Lint to 65 about the complete, fictionally-realized life of Jordan Lint, and Joe Sacco's historiography, Footnotes in Gaza don't fit neatly into a single category.  And yet, many of these pieces address a metacomic theme, commenting on their own art form in some way – David Lasky's cheeky send-up of recent trends in the 'graphic novel' phenomenon and Joey Allison Sayers' Pet Cat, which investigates the negative qualities defining the more commercial reaches of the comicsphere.
And although Bechdel questions why there's still such a gender disparity in the field, she also lauds the fact that female cartoonists are beginning to experience a form of freedom that she hopes will extend to the art form as a whole.  "Freedom from having to explain or defend ourselves.  Freedom from being confined to one section of the bookstore.  Even freedom—one day, maybe—from books like this one."  And it is this liberation, this ability to "look just a little beyond the horizon" that truly defines each of the pieces in THE BEST AMERICAN COMICS™ 2011 which begins, appropriately, with Gabrielle Bell's heartfelt Manifestation.
Allison Bechdel began drawing the comic strip Dykes to Watch Out For in 1983.  Dykes was syndicated in fifty alternative newspapers, translated into multiple languages, and collected into a book series with over a quarter of a million copies in print. Bechdel is also the author of the best-selling graphic memoir Fun Home: A Family Tragicomic, which was named a Best Book of the Year by Time, Entertainment Weekly, the New York Times, People, USA Today, the Los Angeles Times, the Village Voice, and the San Francisco Chronicle, among others.  Her new graphic memoir, Are You My Mother?: A Comic Drama, will be published by Houghton Mifflin Harcourt in April 2012.