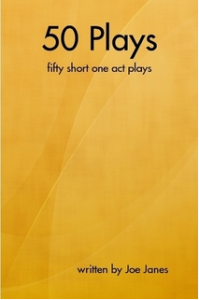 50 Plays by Joe Janes is the follow-up to the remarkable and insane 365 Sketches of 2010.  
Joe Janes spent months working with fifty local directors and their chosen casts to write a ten-minute(ish) play for each one.
A "Best of" presentation of pieces at Donny's Skybox at Second City in August was hailed by the Chicago Reader as ""silly, bizarre, violent, and provocative" "…the pieces showcase Janes's willingness to take risks of all kinds."
Joe Janes is a teacher, writer, actor, improviser and director in Chicago. He is the Improv Program Director in Columbia College's Theater Department. At Second City, he teaches all levels of the writing program. He has worked for Second City for over a dozen years and in that time has performed in the national touring company, produced and directed at Second City – Detroit, directed for the touring company and Second City – Las Vegas.  He spent time as the artistic director of ComedySportz-Chicago where he developed their training center curriculum and created BattleProv. As a comedy writer, he wrote for and provided voices for Jellyvision's You Don't Know Jack series of CD-ROM trivia games, freelanced for SNL's Weekend Update and won an Emmy for his work on Cincinnati's Club 19. He is a founding member of The WNEP Theater Foundation for which he has written and performed for 20 years in such shows as The (Edward) Hopper Project, Metaluna and the Amazing Science of the Mind Revue, The Armageddon Radio Hour and Soiree Dada. He is also the artistic director of Robot vs. Dinosaur and a former company member of the hit show Improvised Shakespeare. Joe began his career as a stand-up comedian where he toured the country for five years opening for such acts as The Monkees, Bill Hicks, Rita Rudner, and Paula Poundstone. You can follow his exploits on his blog biteandsmile.blogspot.com and Twitter and become a fan of 365 Sketches on Facebook.
Joe Janes can be contacted at jjanes@secondcity.com
Sat, Oct 1st, 7pm