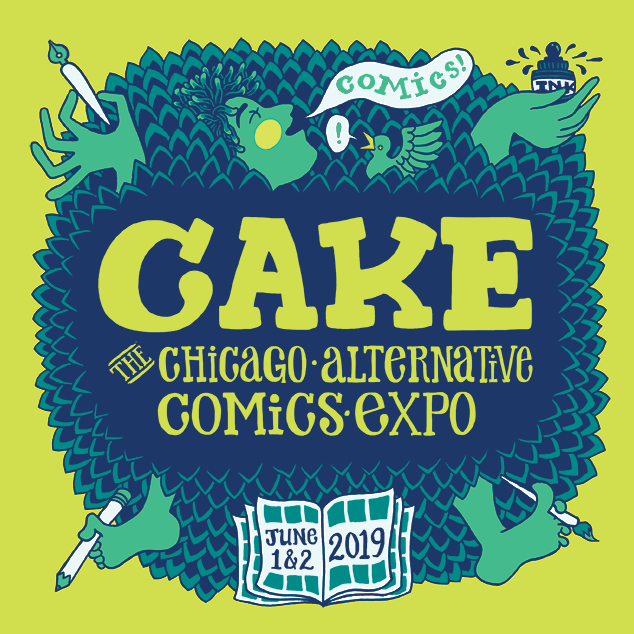 Quimby's is proud to help co-sponsor CAKE —  The Chicago Alternative Comics Expo is a weekend-long celebration of independent comics, inspired by Chicago's rich legacy as home to many of underground and alternative comics' most talented artists– past, present and future. Featuring comics for sale, workshops, exhibitions, panel discussions and more, CAKE is dedicated to fostering community and dialogue amongst independent artists, small presses, publishers and readers.
June 1 & 2, 2019
11:00 am – 6:00 pm
Center on Halsted
3656 N Halsted St.
Free
Don't miss a special CAKE opening night event here at Quimby's
CAKE FRIDAY EDITION of the Saturday Night Drink n' Draw at Quimby's
Fri, May 31st, 7pm
Join comics artists for a special edition of Saturday Night Drink n' Draw (yes, this one is on a Friday, May 31st) where comics artists and educators, Aaron Renier (author of Spiral-Bound, Walker Bean, and Walker Bean and the Knights of the Waxing Moon) and Alex Nall (author of Teaching Comics, Let Some Word That Is Heard Be Yours, Lawns) will lead a series of drawing games and activities! Come out for a fun time featuring refreshments, socializing and secret prizes! More info about this event at the Quimby's Event calendar here and on Facebook here.
More info at cakechicago.com
Poster Art by Marnie Galloway