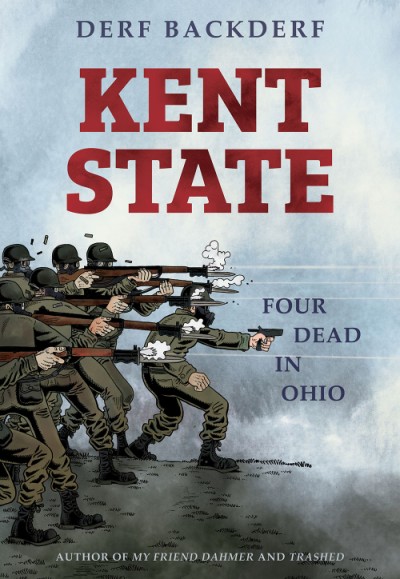 On May 4, 1970, the Ohio National Guard gunned down unarmed college students protesting the Vietnam War at Kent State University. In a deadly barrage of 67 shots, 4 students were killed and 9 wounded. It was the day America turned guns on its own children. Using the journalism skills he employed on his celebrated graphic novels My Friend Dahmer and Trashed, Backderf has conducted extensive interviews and research to explore how mistakes, political rancor, and paranoia built to a deadly crescendo on an American campus. Kent State: Four Dead in Ohio (Abrams ComicArts), to be published by the 50th anniversary of the tragedy, is a moving and troubling story about the bitter price of dissent — as relevant today as it was in 1970.
"Backderf delivers a provocative, heartbreaking account of the days leading up to the infamous tragedy of May 1970… His expertly crafted chronicle of this defining moment in U.S. history serves as a deeply moving elegy for the victims." – Publishers Weekly, starred review
Derf Backderf is the bestselling, award-winning author of My Friend Dahmer and Trashed, and recipient of the prestigious Robert F. Kennedy Journalism Award for political cartooning. His weekly comic strip, The City, appeared in more than 100 newspapers for almost twenty-five years. He lives in Cleveland, Ohio.
** Zoom info ** We want to make sure that our online event is a safe space, so we won't be releasing the Zoom link and password publicly. If you'd like to attend, please email info@quimbys.com to RSVP by 5:30pm CST Thursday, Septemeber 24th. You'll get an email you the Zoom link and password one hour before the event begins.
For a limited time, purchase this book and get a free author signed bookplate! While supplies last!
For more info on book, go to abramsbooks.com.
Check out Derf's social media:
Twitter @DerfBackderf
Here's the Facebook invite for this event.
Thursday, September 24th  7:30pm CST ON ZOOM.
Free Event
For publicity inquiries please contact Maya Bradford (mbradford(at)abramsbooks(dot)com)/212-229-7188