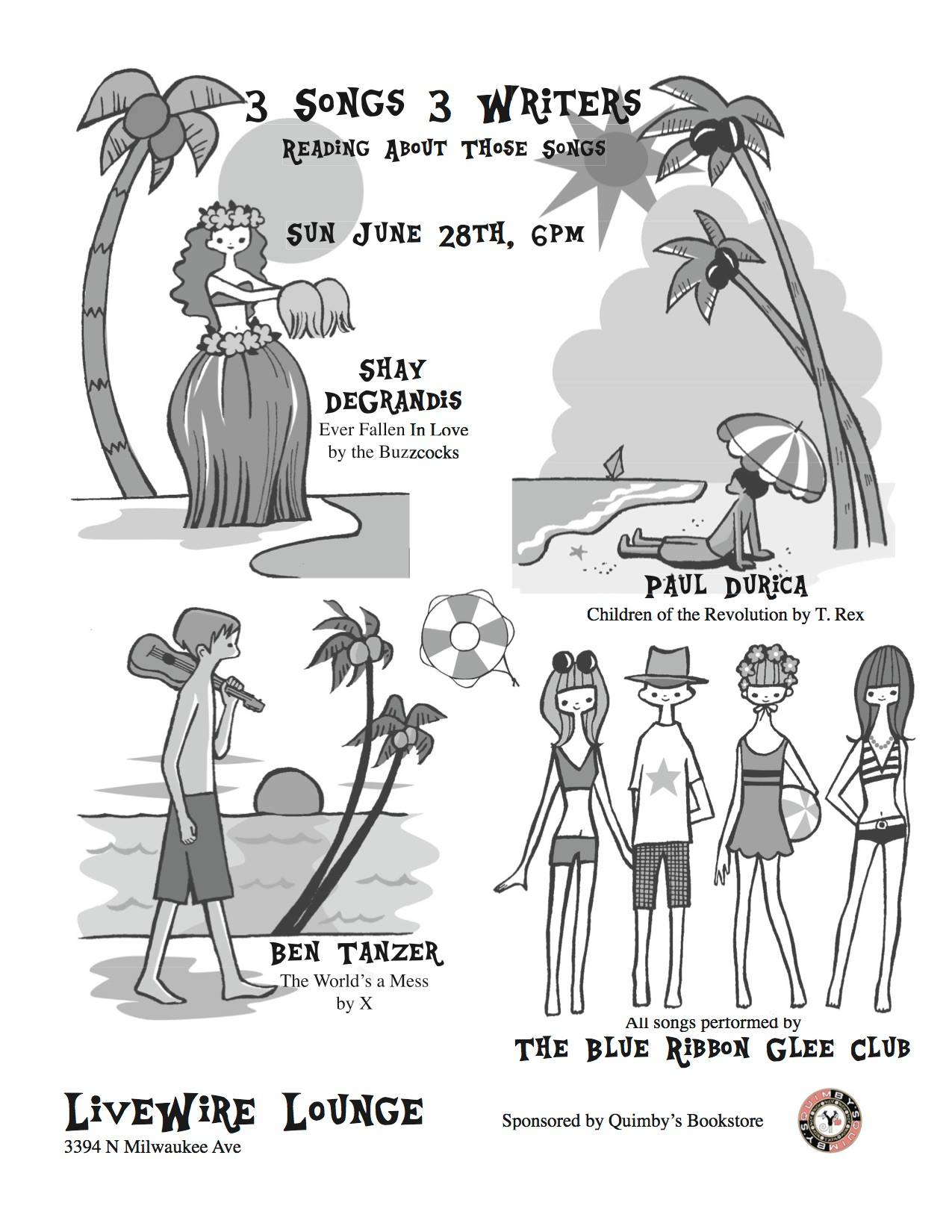 The LiveWire Lounge (3394 N Milwaukee) asked Quimby's to curate a night at their lounge. So this is what we're bringing, a themed mix of reading and music with a very specific focus.
Ben Tanzer, reading about The World's a Mess by X
Shay DeGrandis, reading about Ever Fallen In Love by the Buzzcocks
Paul Durica, reading about Children of the Revolution by T. Rex
All 3 songs performed by The Blue Ribbon Glee Club
Original Readings by:
Ben Tanzer is the author of the books 99 Problems, My Father's House, You Can Make Him Like You, Orphans, which won the 24th Annual Midwest Book Award in Fantasy/SciFi/Horror/Paranormal and a Bronze medal in the Science Fiction category at the 2015 IPPY Awards, and Lost in Space, which received an Honorable Mention in the Chicago Writers Association 2014 Book Awards Traditional Non-Fiction category, among others. He has also contributed to Punk Planet, Clamor, and Men's Health, serves as Senior Director, Acquisitions for Curbside Splendor and can be found online at This Blog Will Change Your Life.
Shay DeGrandis is an artist, writer, producer, administrator, well-meaning amateur therapist, and accidental comedian. She produces and hosts the Chicago edition of Mortified, a comedy show of "personal redemption through public humiliation." Helping performers bring to light their most awkward adolescent writing, she persuades them to share their shame with strangers. Shay also likes to share her own shame both on stage and off and has, in fact, fallen in love with someone she shouldn't have fallen in love with . . . multiple times. You can see what the results look like at shaydegrandis.com
Paul Durica is a teacher, writer, and public historian. Since 2008 he has been producing a series of free and interactive public history programs under the name Pocket Guide to Hell. These talks, walks, and reenactments use costumes, props, music, and audience participation to make the past feel present. Paul has collaborated on programs with a range of cultural institutions from across Chicago including the Jane Addams Hull House Museum, Chicago History Museum, Museum of Contemporary Art, Gallery 400, Smart Museum, and Sullivan Galleries among others. Paul's writing on Chicago history and culture has appeared in Poetry, The Chicagoan, Mash Tun, Lumpen, and elsewhere and, with Bill Savage, he is the editor of Chicago By Day and Night: The Pleasure Seeker's Guide to the Paris of America (Northwestern UP, 2013). pocketguidetohell.com
The Blue Ribbon Glee Club is Chicago's punk rock a capella glee club, and regularly performs songs by Fugazi, Gang of Four, the Dead Kennedys, the Buzzcocks and more.
Please note: This event is NOT at Quimby's. It is at the LIVEWIRE LOUNGE | 3394 N MILWAUKEE AVE, CHICAGO, IL