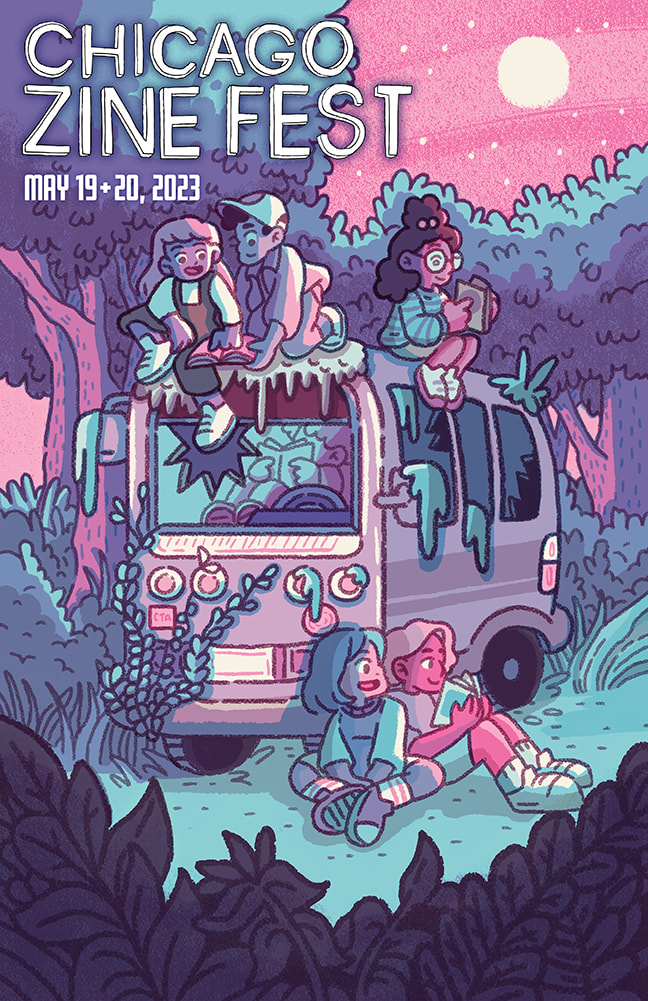 Chicago Zine Fest 2023 is back in person! Quimby's is proud to be a sponsor for Chicago's annual celebration of independent publishers in the Chicago area and beyond. This two-day festival includes an online panel discussion and youth reading on Friday, May 19th and an in-person exhibition day featuring 100+ exhibitors and interactive workshops on Saturday, May 20th.
Friday May 19: two online events starting at 7pm: CZF YouTube channel:  youtube.com/c/chicagozinefest
Online Zinester Panel Discussion: "Quaranzines: How Zine Culture Has Survived and Thrived Since 2020" featuring Julia Arredondo, Oscar Arriola, Brian Baynes, Anna Jo Beck, Jonas Cannon, CHema Skandal, Billy Smith, and Liz Yerby. Moderated by Quimby's own Cynthia E. Hanifin. Sponsored by the University of Chicago Library.
+
Online Zinester Reading featuring members of the Illustration Student Group at Columbia College.
Saturday May 20: Zine Exhibition Day
11:00 am-6:00 pm
Plumbers Union Hall (1340 W Washington Blvd) in Chicago's West Loop neighborhood. Come visit the Quimby's table!
And join us the day after CZF here at Quimby's: Zine Club Chicago informal hang on Sunday, May 21st from noon-2pm at Quimby's. Info about that here.
For more info see chicagozinefest.org.
Poster art by Andrea Bell.