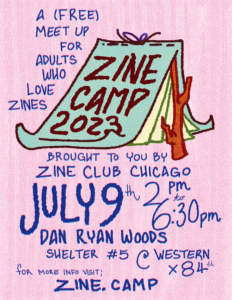 OFF-SITE EVENT!
Zine Camp 2023 presented by Zine Club Chicago
2 p.m. – 6:30 p.m.
Sunday, July 9, 2023
Picnic Grove 5 at Dan Ryan Woods
Free!
Join Zine Club Chicago for an in-person outdoor hangout for adults who love zines!
We had such a blast at Zine Camp last year that we're bringing it back and packing in even more summer fun. Newbies and Zine Club Chicago regulars alike are welcome at Zine Camp 2023, set for 2 p.m.-6:30 p.m. Sunday, July 9 in Picnic Grove 5 at Dan Ryan Woods on Chicago's Southwest Side. Free!
Camp activities include zinemaking, zine trading, and socializing with fellow self-publishing enthusiasts; a crowd-sourced, collaborative, zine-focused Complaint Chorus by Ayun Halliday: a Zinemaking Workshop by Jude R. Bettridge; and SO. MANY. SNACKS!
We'll also be hosting a pen pal station so you can strike up a correspondence with one of our out-of-town Zine Club Chicago friends! (Can't make it to Zine Camp and want a pen pal? Sign up here: tiny.cc/ZineCamp2023PenPals)
Feel free to drop in anytime between 2-6:30 p.m. and stay for as long as you like. Dan Ryan Woods is a Cook County Forest Preserve; our campsite at Picnic Grove 5 will be located off Western Avenue near 84th St.
Need a map, directions on how to get there via public transit or car, and accessibility information? You can find all the details about Zine Camp 2023 (including where we're going for the afterparty!) at zine.camp. Facebook event here.
Zine Camp is made possible by the generous support of zinemaker and all-around awesome person Lucinda J. Williams. Check out her Bookshelf Voyeur zine series here at our shop and online at quimbys.com!
Shoutout to our Zine Camp Counselors: Aim Beland, Michael Verdi, Liz Mason, Cynthia E. Hanifin, Ayun Halliday, and Jude R. Bettridge
Thank you to Aim Beland for designing the Zine Camp 2023 poster!
Image description: A pink flyer with the illustration of a green tent made out of a stitchbound zine and a tree branch, with this text: Zine Camp 2023; a (free) meetup for adults who love zines; Brought to you by Zine Club Chicago; 2 p.m. to 6:30 p.m. July 9th; Dan Ryan Woods Shelter #5 @ Western x 84th; for more info, visit zine.camp