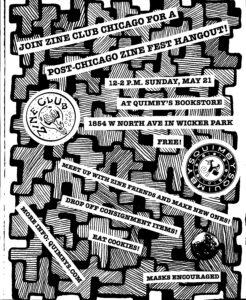 12-2 p.m. Sunday, May 21
Quimby's Bookstore
1854 W. North Ave.
Free!
Going to Chicago Zine Fest?* Let's keep the fun fest vibe going all weekend! Zine Club Chicago is hosting a meetup (with snacks, of course) from 12 to 2 p.m. Sunday, May 21 here at the shop. Spend time with your zine pals and make new ones, eat some cookies, browse fresh arrivals in the shop, and drop off your consignment items.**
Free! Masks encouraged. More info on the Zine Club Chicago social media channels: @zineclubchicago. Facebook event here.
* We'll be there! Look for the Quimby's and Zine Club Chicago tables at #CZF2023.
** Please note that we have moved to an email-only consignment check-in system and will not be able to make consignment payouts or check current stock levels of your consignment items during the hangout.
Image description: A black-and-white, cut-and-paste event flyer that reads: "Join Zine Club Chicago for a Post-Chicago Zine Fest Hangout! 12-2 p.m. Sunday, May 21 at Quimby's Bookstore, 1854 W. North Ave. in Wicker Park; Free!: Meet up with zine friends and make new ones!; Drop off consignment items!; Eat cookies!; Masks encouraged; More info: quimbys.com"