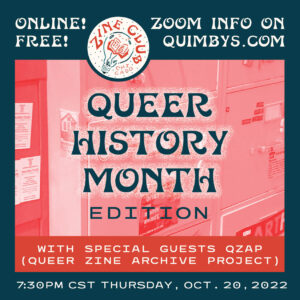 This month, Zine Club Chicago is excited to welcome Milo, Chris, and the rest of the Queer Zine Archive Project team as our special guests for Queer History Month! They'll be joining us from the QZAP headquarters in Milwaukee to give us a look at some of the items in their collection and discuss the ways that folks use queer zines to teach queer history. QZAP was established in 2003 to preserve queer zines and make them available to other queers, researchers, historians, punks, and anyone else who has an interest in DIY publishing and underground queer communities.
Please bring your favorite queer zines from your own collections to share, BYOS(nacks), and join us on Zoom for Zine Club Chicago Online: Queer History Month Edition with Special Guests QZAP at 7:30 p.m. CT Thursday, October 20! (Yes, we're meeting on a Thursday evening this month.)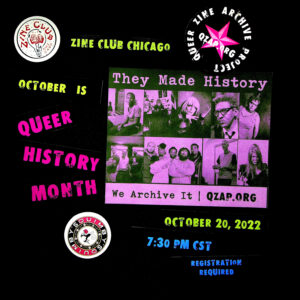 ** RSVP required ** We want to make sure that our online Zine Club Chicago events are a safe space, so we won't be releasing the Zoom link publicly. If you'd like to attend, please email zineclubchicago@gmail.com to RSVP by 9 p.m. CT Wednesday, October 19 (the evening before our event). We'll email you the Zoom link by 5 p.m. CT Thursday, October 20.
Zine newbies and longtime enthusiasts alike are always welcome at Zine Club Chicago, the city's only book club-style event for people who read zines. This free monthly series is produced by Cynthia E. Hanifin and sponsored by Quimby's Bookstore. Anna Jo Beck designs our monthly flyers, created our logo, and made our Zine Club Chicago Shout-Outs site, where folks can peruse and recommend zines we've discussed at our events.
More info at quimbys.com and on the Zine Club Chicago social media channels: @zineclubchicago. Facebook event is here. You can find out more about QZAP at qzap.org.
Image description #1: A red-and-blue infographic flyer, with the image of a set of file cabinets at the QZAP headquarters, and text that reads: "Zine Club Chicago: Queer History Month Edition with Special Guests Queer Zine Archive Project (QZAP); Zoom info on quimbys.com; 7:30 p.m. CST Thursday, October 20, 2022"
Image description #2: A collage of text mixed in with stickers from Zine Club Chicago, Quimby's, and QZAP, with an old QZAP postcard that says "They Made History, We Archive It" with pictures of Marsha P. Johnson, GB Jones and Bruce LaBruce, Jayne County, Bayard Rustin, and Nomi Lamm (top row) and Mike Bullshit, Larry-bob Roberts and Matt Wobensmith, Deep Dickollective, Tom Jennings, and Vaginal Davis (bottom row)