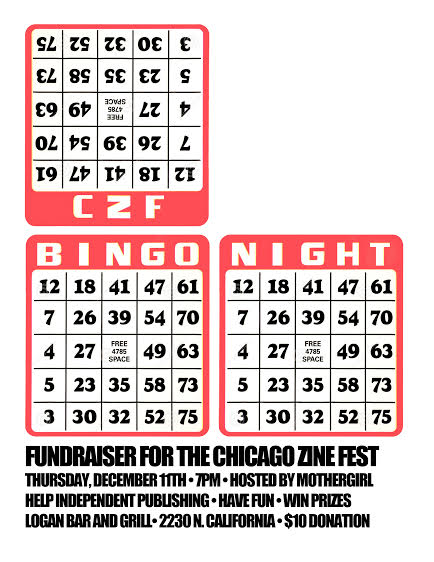 Chicago Zine Fest's fourth annual Bingo Night fundraiser will be held on Thursday, December, 11 at Logan Bar and Grill, 2230 N California Ave, 7pm.  (NOT AT QUIMBY'S.)
Zine Fest Bingo is always a great time. Join special guest bingo callers, Chicago based performance duo Mothergirl, Katy Albert and Sophia Hamilton, as they call out the numbers. There is a suggested entry donation of $10 which includes your bingo cards good for multiple rounds. Each round allows for a chance to win!
There is over $500 in spectacular prizes from local businesses and artists including Quimby's Bookstore, Handlebar, Second City, Marnie Galloway, This Fine Day, Mieke Zuiderweg, Rhosilk, Fount Leather, Letter Writers Alliance, Swim Club, Chapter Jewelry, Zero Bird, Sean Mort Print Shop, Kozie Prery, Red Belly Studio, and 1.by.liz.
All proceeds benefit Chicago Zine Fest 2015. Win prizes (like a Quimby's gift certificate!), support self-publishing and have fun!
For more information visit chicagozinefest.org
Click here for the Facebook event invite.
Event flyer created by zine fest organizer @Michael Schneider.
About Mothergirl:
Mothergirl (Katy Albert and Sophia Hamilton) is a Chicago based performance duo whose work has taken the form of installation, durational event, and guided audience interaction. Mothergirl's characters, and the worlds they inhabit, exhibit a strategically refracted or misrepresented view of current political and philosophical discourse, creating a space where viewers are challenged to think critically about their own relationships with feminism, consumerism, and representational visuality. They are founders and hosts of Bits and Pieces: A Monthly Salon for Ideas and Experiments. They were 2012 ACRE Residents and 2013 Chicago Artists Coalition HATCH Residents. www.mothergirlperformance.com
Quimby's is proud to be a sponsor for Chicago Zine Fest.