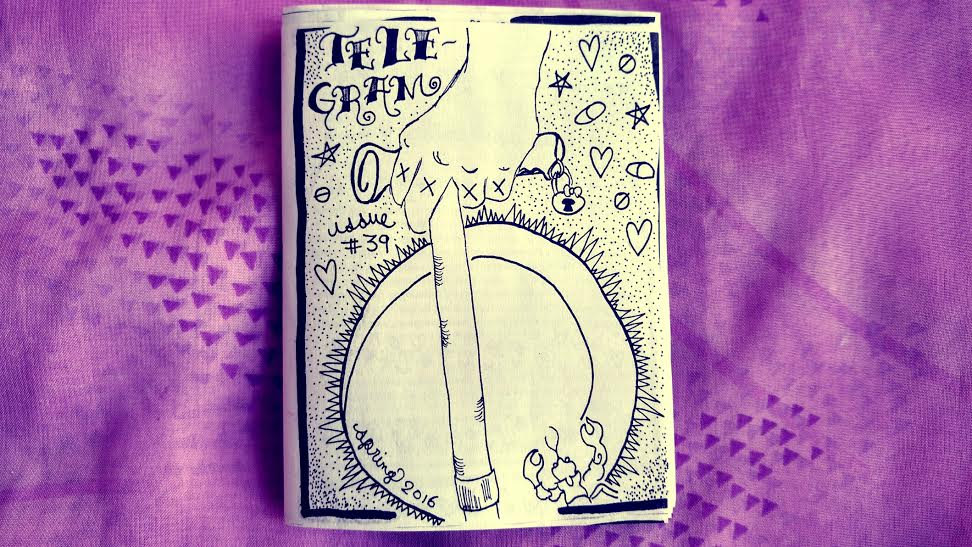 Telegram #39 by Maranda Elizabeth $3.00
*ZINES*
Walks of Life #1 by Michelle Wanhala $5.00
Living Southerners #5 Sep 16 by J Wu $2.00
Soda Killers #10 & #11 $5.00 each
Yollocalli Zine Made by Teens at Yollocalli Arts Reach $8.00
Journey To Bunny Island $20.00
Telegram #38 Critical Breakfast #1 split zine Oct 15 by Maranda Elizabeth & and Amber Dearest $3.00
Secondhand Emotion A Zine about Love Anxiety Gender Race and Feelings by Cassandra $3.00
Fuggles A Beer Zine #1 Sum 16 $3.50
zines by Shawn Granton :
Bike Fun Primer Urban Adventure League $2.00
New Old Stock #1 The Illustrated Journal of a Civilized Cyclist Urban Adventure League $3.00 – Also issue #1 3/8 available for $3.00.
Disruptor: Exploring Seattle Punk and Hardcore #1 Spr 16 & #2 by Lucas Reif $5.00 each
KerBloom #121 Jul Aug 16 $2.00
Margin Creep #5 $10.00
Still $20.00
Long Exposure $10.00
Super Sloppy Obstacle Carnage by Alicia Rose $5.00
It Will Be Okay by Miss Muffcake $2.50
*COMICS & MINIS*
Forever and Everything #1 by Kyle Bravo $8.00
Feedback #14 The Grand Finale by John Isaacson $4.00
Blubber #3 by Gilbert Hernandez $3.99
Sun Bakery #3 by Corey Lewis $5.99
Her Pleasure $7.00
Miraculous Healing by Emily Schulert $10.00
TV Deep Fry by Logan Kruidenier $7.00
Sir Alfred Number 3 A Comic Biography of Alfred Hitchcock by Tim Hensley (Pigeon Press) $24.99 – Final publication from Pigeon Press.
*GRAPHIC NOVELS*
Real Deal Comix by Lawrence "Rawdog" Hubbard and H.P. McElwee (Fantagraphics) $29.99
Longest Day of the Future by Lucas Varela (Fantagraphics) $24.99
Arresting Development: Comics at the Boundaries of Literature by Christopher Pizzino (U of Texas Press) $29.95
Snake Tales, Chilling Archives of Horror Comics by Crig Yoe $24.99
Black Panther Book 1 A Nation Under Our Feet by Ta-Nehisi Coates & Brian Stelfreeze $16.99
*ART & DESIGN*
Fauxlosophy by Ron English (Carpet Bombing Culture) $17.95
Let Her Be Free: Icy and Sot: Stencil Artists from Iran by Icy and Sot (Lebowski Publishers) $29.99
Imponderable: The Archives of Tony Oursler by Branden Jospeh et. al (JRP Ringier) $65.00
Sam Is Not My Uncle: The USA in Cuban Poster and Billboard Art by Alfons Gonzalez Quesada (Casa America Catalunya) $25.00
Chicago: A Love Story Greeting Card by Johnny Sampson $4.00 – Plus! Some Johnny Sampson stickers!
Themed Sticker Bomb sets, each $8.95: Zombies, Vampires, Robots
Bad Girls Throughout History: 100 Remarkable Women Who Changed the World by Ann Shen $19.95
Psychobook: Games, Tests, Questionnaires, Histories by Julian Rothenstein $40.00 – Reveals the rich history of psychological testing in a fascinating sideways look at classic testing methods, from word-association games to inkblots to personality tests. Includes never-before-seen content from long-hidden archives, as well as reimagined tests from contemporary artists and writers, to try out yourself, at home or at parties. A great gift for the therapist in your life and the therapist in you, for anyone interested in the history of psychology and psychological paraphernalia.
*FICTION*
We Speak Chicagoese: Stories and Poems by Chicago Writers by Bill Donlon et al. $15.95
Strange Case of Rachel K. by Rachel Kushner $10.95
Children of Lovecraft ed. by Ellen Datlow (Dark House) $19.99 – Stories inspired by Lovecraft by Brian Hodge, Siobhan Carroll, A.C. Wise and more.
Nix: A Novel by Nathan Hill $27.95
*MAYHEM*
World in Flames: A Black Boyhood in a White Supremacist Doomsday Cult by Jerald Walker $24.95
ZeroZeroZero: Look at Cocaine and All You See Is Powder. Look Through Cocaine and You See the World. by by Roberto Saviano $18.00
Smile Now, Cry Later: Guns, Gangs, and Tattoos-My Life in Black and Gray by Freddy Negrete $30.00
Wizard: The Life and Times of Nikola Tesla: Biography of a Genius by Marc Seifer $21.95
*FILM & MUSIC BOOKS*
Guillermo Del Toro: At Home with Monsters, Inside His Films Notebooks and Collections (Insight Editions) $29.99
Dario Argento: The Man, the Myths & the Magic by Alan Jones (FAB Press) $49.95
Joy Devotion: The Importance of Ian Curtis and Fan Culture by Jennifer Otter Bickerdike $19.95
*ESSAYS*
Be Cool: A Memoir, Sort Of by Ben Tanzer (Dock Street Press) $18.95
Against Everything: Essays by Mark Grief $28.95
Beyond the Robot: The Life and Work of Colin Wilson by Gary Lachman $26.00
*POLITICS & REVOLUTION*
Close to Home: A Materialist Analysis of Womens Oppression by Christine Delphy $23.95
*MAGAZINES*
Bitch #72 Fall 16 Kids These Days $6.95
Juxtapoz #189 Oct 16 $6.99
The Baffler #32 Muzak of the Spheres $14.00
Upping The Anti #18 Journal of Theory and Action $13.00
Majestic Disorder #7 $18.99
Kinfolk vol 21 The Home Issue $18.00
Toilet Paper #13 $16.00
Mojo 60s #6 Hendrix Celebrating Rock's Decade of Cool $15.99
Taproot #19 Wander $12.00
Ugly Things #42 $9.95
Radical Philosophy #199 Sep Oct 16 $13.00
Under the Radar #58 Sep 16 $5.99
Girls and Corpses vol 10 Sum Fall 16 $8.95
Skeptical Inquirer vol 40 #5 40th Anniversary $5.99
Uncut #232 Sep 16 Tom Waits $10.99
White Fungus #15 $13.99
Wicked Visions Magazine vol #2 $18.00
Soft Magazine #1 $18.00 & #2 $25.00
Wax Poetics #65 16 Tribe Called Quest $11.99
True Crime Aug 16 $9.99
Offscreen #15 People Behind Bits and Pixels $20.00
*LIT JOURNALS & CHAP BOOKS*
Sheriff Nottinghams Holiday Herald #7 vol 2 issue 3 Womens Day $10.00
Lost Horizon #1 by Wilfredo Merced $6.00
*SEXXXY*
Elska #7 Cardiff Wales $18.50
Sticker My Boobs 100 Boobtastic Stickers for Adults by by D.D. Stacks (Happy Hen) $9.99
Pinups #19 Vincent Tiley and #20 Akrum Salem $14.00 each
*HUMOR*
Bad Little Childrens Books: Kid Lit Parodies, Shameless Spoofs, Offensively Tweaked Covers by Arthur C. Gackley $14.95
*FOR THE KIDDIES*
Toby Snax by Kristin Hersh $14.95 – Throwing Muse throws a children's book.
Lucy and Andy Neanderthal by Jeffrey Brown $12.99