Monthly Archive for June, 2017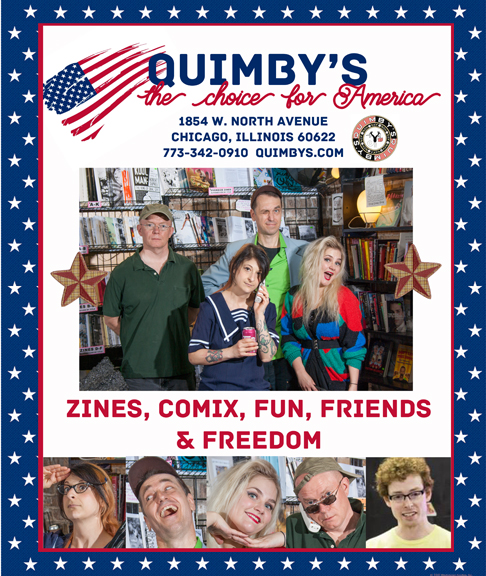 We'll be open noon to 5pm on Tuesday, July 4th. Enjoy!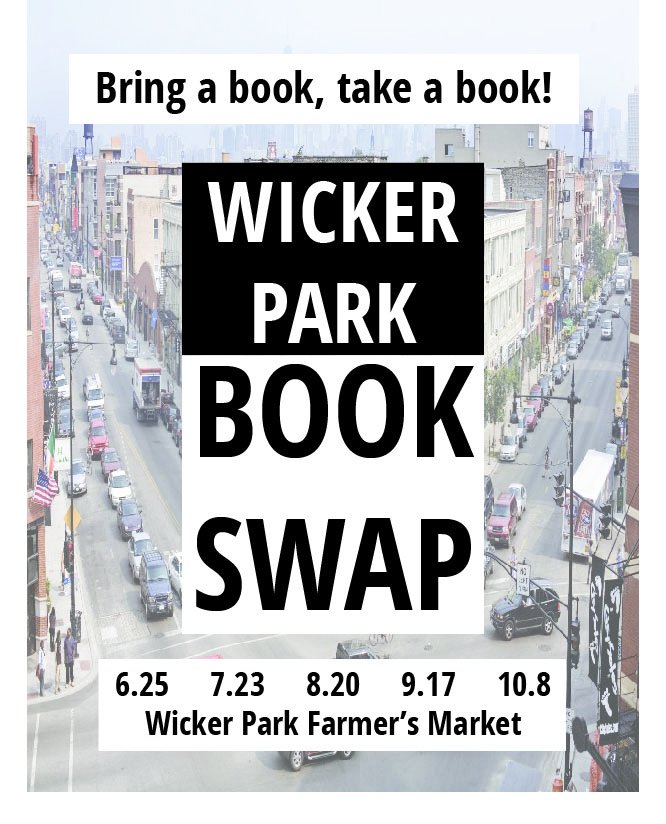 From 8am-2pm once a month on selected Sundays! Bring a book! Leave a book! Enjoy a book! At Wicker Park, 1425 N. Damen Ave. Sunday, July 23rd, 9am-1am!
At the end of the summer, the books that remain will be donated to Open Books to aid in their continual creation and support of literacy programs in Chicago.
Here's the Facebook event invite for it.
See you there!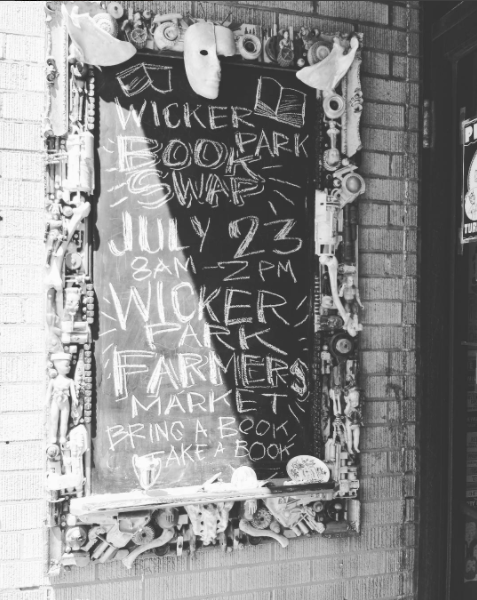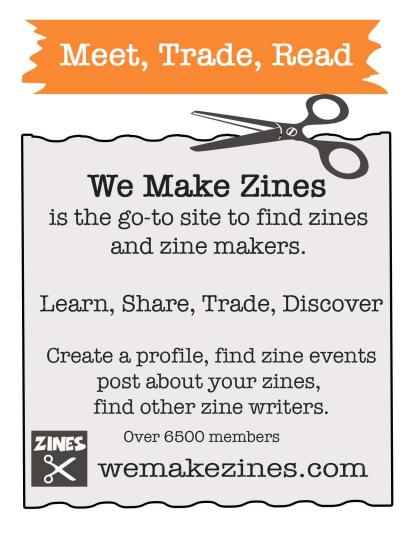 We Make Zines is helpful community for zine makers and readers that has relaunched with a wonderful updated site. Make an account, make friends, get inspired with ink on paper. Make a profile, list your zineography, post images of zines, partake in the forums, find other zine writers, read about new releases, read reviews from your favorite zine writers and leave comments about the zine you just read on the actual zinesters profile. Use it to connect, report, review and talk about new stuff. There's even a Zine Making 101 section! Find it at wemakezines.com.
*ZINES*
Butch Nor Femme #11 $2.00
Divide and Conquer or Divide and Subdivide? How Not to Refight the First International (PM Press Pamphlet Series) $5.95
Art History Coloring Books by Maddie Stratton $15.00 each
Happy Tapir #3 A Cup of Holiday Fear by Johnny Masiulewicz $3.00
*COMICS & MINIS*
Strange Adventures of Bone Boy #3-#5 by Joe Haines $5.00 each
Human Cannonball by Rick Schlaack $3.00
Tales to Befuddle: A Comics Anthology $5.00
To Those in Glass Houses, Pallor Pink vol 3 Anthology $12.00
Sleeping Dog by Yewon Kwon $5.00
Grown – A Comic Strip by J. Spencer Howland $5.00
Midwestern Cuban Comics #10 by Odin Cabal $7.00
*GRAPHIC NOVELS & COMICS ESSAYS*
A New Low by Johnny Ryan (Fantagraphics) $19.99 – Collects 10+ years of transgressive cartoons originally featured in Vice magazine. Skewers Bill Cosby, Two and a Half Men, Wall Street, and so much more. Full-color!
An Apple and An Adventure by Martin Cendreda $14.99
In the Pines: Five Murder Ballads by Erik Kriek (Fantagraphics) $24.99
Zanardi by Andrea Pazienza (Fantagraphics) $29.99 – The Italian "Crumb" portrays a lost generation of late 1970s/early 1980s teenagers coping with family problems, school, sex, and drugs.
Kitaro and The Great Tanuki War by Shigeru Mizuki (D+Q) $12.95
Adventure Time Comics vol 2 by Pendleton Ward and friends $14.99
The Many Lives of Catwoman: The Felonious History of a Feline Fatale by Tim Hanley (Chicago Review Press) $18.99
Everything I Needed to Know About Life I Learned from Marvel Comics by Joe Muszynski $10.00
*ART BOOKS*
KOLORSTORM: The Art of Louie "KR.ONE" Gasparro by Louie Gasparro $34.99 – "Graffantasy" from NYC-based artist and heavy metal drummer: tags, wall pieces, paintings and illustrations, model trains, jackets, and more.
*POLITICS & REVOLUTION BOOKS*
No Is Not Enough: Resisting Trump's Shock Politics and Winning the World We Need by Naomi Klein (Haymarket) $16.95 – From No Logo and Shock Doctrine writer, about Trump as a logical extension of the most dangerous trends of the past half-century—the very conditions that have unleashed a rising tide of white nationalism. It is not enough, she tells us, to merely resist, to say "no." We need a credible and inspiring "yes," a roadmap to reclaiming the populist ground from those who would divide us—one that sets a bold course for winning the caring world we need.
Out of the Ruins: The Emergence of Radical Informal Learning Spaces by Robert H. Haworth and John M. Elmore (PM Press) $24.95
Guerrillas of Desire: Notes on Everyday Resistance and Organizing to Make a Revolution Possible by Kevin Van Meter (AK Press) $18.95
Libertarian Socialism: Politics in Black and Red, ed. by Alex Prichard, Ruth Kinna, Saku Pinta, and David Berry (PM Press) $26.95
Practical Utopia: Strategies for a Desirable Society by Michael Albert (PM Press) $20.00
*OUTER LIMITS*
The Nebulae: Political Murder Investigators Stumble Upon the NWO's Absolute Power by Walter J. Baeyens (Trine Day) $19.95 – Providing deep insights into the unseen but real forces that shape the course of history, this investigation exposes a cabal which controls most of the money transfers worldwide as well as the highest political authorities.
Legacy of the Yosemite Mafia: The Ranger Image and Noble Cause Corruption in the National Park Service by Paul D. Berkowitz (Trine Day) $19.95
Confessions of an Illuminati, Volume III: Espionage, Templars and Satanism in the Shadows of the Vatican by Leo Lyon Zagami (Trine Day) $17.95
*MUSIC BOOKS*
Trouble Boys: The True Story of the Replacements by Bob Mehr $17.99 – Now in paperback!
England's Hidden Reverse: A Secret History of the Esoteric Underground by David Keenan (Strange Attractor Press) $33.95 – Back in print! Based on hundreds of hours of interviews with members of the seminal music groups Coil, Current 93, and Nurse With Wound, England's Hidden Reverse illuminates a shadowy but deeply influential underground scene. Together these artists and their many associates accented peculiarities of Englishness through the links and affinities they forged with earlier generations of the island's marginals and outsiders, such as playwright Joe Orton, writers like the decadent Count Eric Stenbock, ecstatic mystic novelist Arthur Machen and occult figures like Austin Osman Spare and Aleister Crowley.
*MAGS*
Maximumrocknroll #410 Jul 17 $4.99
Fortean Times #354 Jun 17 $12.50
Cabinet #62 Milk $12.00
Chap #92 Sum 17 $7.75 – One shalt always doff one's cap!
Laphams Quarterly vol 10 #3 Sum 17 $18.00
XY Sex Panic Magazine #51 Sum 117 $9.99
Shock Cinema #52 $5.00
Skeptic vol 22 #2 17 $6.95
Skeptical Inquirer vol 41 #4 Jul Aug 17 $5.99
Nexus vol 24 #4 Jul Aug 17 $6.95
Harpers Magazine Jul 17 $6.99
Nostalgia Digest Sum 17 $4.50
Radical History Review #128 May 17 $14.00
Anarcho-Syndicalist Review #70 Sum 17 $5.00
Illustoria #4 Grow Issue Stories Comics and DIY $14.00
Wire #400 Jul 17 $10.99
Mojo #284 July 17 $10.99
The Thrill of Repulsion: Excursions into Horror Culture by William Burns $24.99 – For fans of experimental cinema, heavy metal, industrial music, comics, and the occult! Lists, articles, reviews, analysis, in-depth conversations with musicians & more!
*ZINES*
Printsploitation #3 by Scott R. Miller $8.00 – Horr and Cult movie drawing zine anthology.
zines by Corinne Halbert:
Hate Baby #666 by Corinne Halbert $6.00
Lady Like $4.00
We'll Never Have Paris #14 Away $5.00
various zines by Walter Mingledorff
Scorched Cunt by Heather Daddy $5.00
Eat Your President For Breakfast $1.00
*COMICS & MINIS*
various comics by:
Shari Ross
Yvonne Alexandra
Tommi Parrish
Chloe Perkis
Heberto Bicio Morales
Joe Garber
A.T. Pratt
Sally Cantirino
Jenn Woodall
Reilly Hadden
Lost Cats #3 by Megan Stanton $2.00
Kleitoria by Sergio Vazquez $7.00
Procedural by Walker Tate $6.00
Infinite Wheat Paste #1 $5.00
Umbra by Heberto Bicio Morales $6.00
Accursed by Daria Tessler (Perfectly Acceptable) $25.00
Welcome to Ukranian Village by CHIPRC $3.00
Surmountable Odds #1 by Vinnie Neuberg $7.00
*GRAPHIC NOVELS*
Vague Tales by Eric Haven (Fantagraphics) $16.99 – A man telepathically visits other worlds while sitting in his apartment, a solitary figure has telepathic encounters with a demonic aviatrix, a wandering crystalline being, a flaming sword-wielding warrior, and a mysterious sorceress, all within the confines of his own apartment.
Ohio Is For Sale vols 9 & 10 by Jon Allen $8.00 each
Pop Gun War: Chain Letter by Farel Dalrymple $19.99
Black Panther: World of Wakanda by Roxane Gay $17.99
Ripple: A Predilection For Tina by Dave Cooper (Fantagraphics) $24.99 – Reprint of this popular graphic novel, in which an artist and model fall into an abject relationship. With an intro by David Cronenberg!
*ART & DESIGN*
Mai-Kai: History and Mystery of the Iconic Tiki Restaurant by Tim "Swanky" Glazner $34.99 – The Mai-Kai Restaurant and bar in Fort Lauderdale poached key staff from Don the Beachcomber's in Chicago in 1956. Here's the story in full glory, with first-hand stories 400+ images, an enduring legacy of the mid-twentieth-century Tiki era!
Tattoo Lettering & Banners: Classic and Modern Script Designs by Britt Johansson $24.99
*POLITICS & REVOLUTION*
Witches, Sluts, Feminists: Conjuring the Sex Positive by Kristen J. Sollee $16.95
Young Radicals: In the War for American Ideals by Jeremy McCarter $30.00
*ESSAY*
Hunger: A Memoir of (My) Body by Roxane Gay $25.99
*FICTION*
Keeping Your Cool: a post-teen tale of relations, frustrations, and bodily functions by Bill Franz $15.00 – For a young, unemployed college dropout goth like Jim Scarpelli, the bars and clubs of Chicago are a refuge. And never more so than in the spring of 1989, when Jim's primary goal in life is to escape his suburban boyhood home and live in the city, where he can finally enjoy the urban high life he's always dreamed about. Then he meets Barb, an artist whose hoity-toity background underscores just how plebian his own his. Sparks fly, but Jim is terrified she might discover the truth of his situation and immediately drop him for the loser he is. How to avoid such a fate?
Universal Harvester: A Novel by John Darnielle $25.00 – Life in a small town takes a dark turn when mysterious footage begins appearing on VHS cassettes at the local Video Hut. By Mountain Goats superstar and author of Wolf in White Van.
How to Set a Fire and Why by Jesse Ball $16.00 – Now in soft cover. When Lucia discovers that her school has a secret Arson Club, her life is suddenly lit up!
*MUSIC, FILM & COMEDY BOOKS*
Dream Baby Dream: Suicide: A New York Story by Kris Needs $17.99 – The definitive, authorized biography of Suicide, the most iconic band of the New York punk explosion. supported with firsthand interviews by its founders, singer and artist Alan Vega and maverick instrumentalist Martin Rev.
Based on a True Story by Norm MacDonald $16.00 – "Memoir" from the actor, gambler, raconteur, and Saturday Night Live veteran.
*OUTER LIMTIS*
Interview with the Boogeyman: A Monster for All Times by Benjamin S. Jeffries $19.99 – From folklore to contemporary horror, through a series of engaging questions, diary entries, and author research, the evolution of the Boogeyman continues to develop as he takes credit here for the most disturbing and bloodthirsty creatures ever to scare us silly. Written in a clever interview style, this whimsical, funny, informative, and scary biographical history of the world's greatest fiend takes the reader on an escapade into terror that began in the dank world of the Dimmuborgir Lava Fields in Iceland and culminates in the surreal landscape of today's modern monsters.
Aliens, God, and the Bible: A Theological Speculative Study of the Bible's Alien Mysteries by Joel Curtis Graves $17.99
Hints on Etiquette: A Shield Against the Vulgar by various $9.95 – Part of the 'Found on the Shelves' series of books from the Victorian era and beyond, published with The London Library. This volume dispenses wisdom on decorum and all manner of matters, from the dinner table to marriage, and from smoking to fashion.
*FOOD BOOKS*
Famous Nathan: A Family Saga of Coney Island, the American Dream, and the Search for the Perfect Hot Dog by Lloyd Handwerker & Gil Reavill $17.99 – Now in soft cover!
*MAGAZINES*
Gather Journal #11 Sum 17 Heroines, Women and Art $19.99
Shots #136 Sum 17 $7.25
032c #32 $41.99
Man About Town #20 Sum 17 $24.99
*LIT JOURNALS & CHAP BOOKS*
Sheriff Nottingham X #10 $10.00
Why Is There Mold In My Mocha: An Eclectic Collection of Poetry and Prose by Campbell Richmond $3.00
Brick #99 Spr 17 $16.00
various titles by Casi & Steven Cline