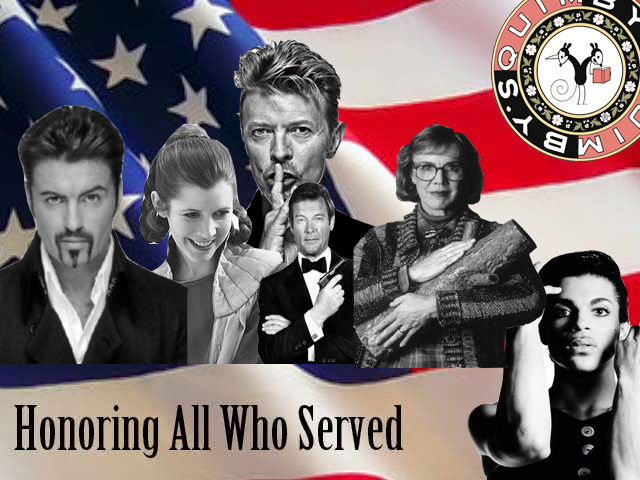 Quimby's Memorial Holiday Weekend Hours:
Saturday, May 27th, 11am-10pm
Sunday, May 28th, noon-7pm
Monday, May 29th, noon-9pm
New Stuff This Week
*ZINES*
Telegram #41 & #42 by Elizabeth Miranda $3.00 each
Matalica Tickets by Marc Fischer
Bodyworks by Liz Barr $8.00
Homophobia Homoerotica $6.00
Travel On #8 Back Home in Florida $2.00
House of Jacob People Israel – A Trans Jewish Zine by Rena Yehuda Newman $6.00
How to Be the Leader of Your Own Life by Sandra M. $4.00
Namaste Motherfucker #5 Help Me Break Even by Ben Terrall $5.00
Empower yoself before you wreck yoself: native american feminist musings by Melanie Fey and Amber McCrary $5.00
On Quitting: Tips for Kicking Alcohol by Elly Blue (Microcosm) $4.00
zines from Draw Down Books, $14.00 each:
Righteous Sleaze by Celestin Krier and Trinie Dalton
Repertoire by Maziyar Pahlevan
HP LaserJest 1320n by Gluekit
Girls by Katya Krasnova
It Is the Listener That Decides by Maziyar Pahlevan
& more!

*COMICS * MINIS*
Cabbagetown #1-#3 by Jason Kieffer $5.00 each
Death Ritual by Toleko Sandoval $5.00
Bar Date by Allie Allan D. Caesar $10.00
Pain Full Ness #1 Voice Boxed by Noah Xifr $25.00
Madre Patvia by Rafael Huerta $3.00
Recollection by Chloe Wilson $8.00
Country Mouse In the Windy City a Diary Comic by Anna Lisa Schneider $3.00
Qodexx by Gene Kannenberg Jr. $5.00
*GRAPHIC NOVELS*
One More Year by Simon Hanselmann (Fantagraphics) $24.99 – The continuing stories of a stoner witch, a cat, an owl, and a werewolf.
To Have and To Hold by Graham Chaffee (Fantagraphics) $24.99
On The Camino by Jason (Fantagraphics) $24.99 – Northwestern Spain, observed with the eye of an artist, in Jason's first full-length graphic memoir about his experiences walking a 500-mile pilgrimage for his 50th birthday. Also, Fantagraphics reprinted a few of Jason's books that haven't been available since 2014: Lost Cat $16.99, I Killed Adolf Hitler $16.99.
Zanta The Living Legend by Jason Kieffer $15.00
*MUSIC BOOKS*
Dig If You Will the Picture: Funk, Sex, God and Genius in the Music of Prince by Ben Greenman $28.00
Screamin' Jay Hawkins' All-Time Greatest Hits: A Novel by Mark Binelli $16.00 – A fantastical retelling about this riotous, legendary musician.
Shake It Up: Best American Writing on Rock and Pop from Elvis to Jay Z, ed. by Jonathan Lethem & Kevin Dettmar $40.00
*READING ABOUT FOOD*
The World is a Beautiful Place and Now I'm in the Mood by Leor Galil and Sarah Joyce $13.00
*DIY*
The Little Book of Life Hacks: How to Make Your Life Happier, Healthier, and More Beautiful by Yumi Sakugawa $19.99
*MAGAZINES*
Lucky Peach #23 Sum 17 The Suburban Issue $12.00
Bitch #75 Sum 17 $6.95
Bust #105 Jun Jul 17 Amanda Steinberg $6.99
Mojo #283 Jun 17 $10.99
Fortean Times #353 May 17 $12.50
Puss Puss #5 $24.95
*CHAP BOOKS & POETRY*
Call of the Void by A. Kirsling $5.00
Registered Respiratory Therapist by Robert Weinberg $10.00
*POLITICS & REVOLUTION*
Who Rules the World? by Noam Chomsky $18.00 – Now in soft cover. In an incisive, thorough analysis of the current international situation, Noam Chomsky examines the way that the United States, despite the rise of Europe and Asia, still largely sets the terms of global discourse.
"You're in the Wrong Bathroom!": And 20 Other Myths and Misconceptions About Transgender and Gender-Nonconforming People by Laura Erickson-Schroth & Laura A. Jacobs $16.00
*ESSAYS*
Yawn: Adventures in Boredom by Mary Mann $15.00 – A global search through history for the truth about boredom, featuring fourth-century monks who offer the first recorded accounts of lethargy, deployed soldiers who seek entertainment and connection in porn; and prisoners held in solitary confinement & more.
*OUTER LIMITS*
Aliens: The World's Leading Scientists on the Search for Extraterrestrial Life by Jim Al-Khalili $25.00
We Are Never Meeting in Real Life.: Essays by Samantha Irby $15.95