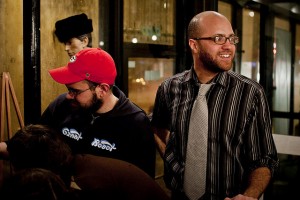 Quimby's is excited to host Ezra Claytan Daniels' Comic Art Battle as part of official festivities surrounding the Chicago Alternative Comics Expo!
The Comic Art Battle pits teams of ferocious comics artists against each other in a knock-out, drag-down frenzy of improvised gags, comics strips and chaos. Hosted by its founder, Ezra Claytan Daniels, this battle will feature a match-up between Chicago's favorite comic book sons and daughters against an all-star coalition of visiting comics makers. It's Chicago vs. the world! You wont want to miss it! This event is preceded by a signing by Michael DeForge, Lisa Hanawalt and Patrick Kyle.
EZRA CLAYTAN DANIELS is a writer and illustrator based in Chicago, IL. His critically acclaimed graphic novel series, The Changers, began a unique comics career peppered with a number of collaborative multimedia projects ranging from video games to animation to feature documentaries. Ezra is also the creator of the popular live art spectacle, The Comic Art Battle, and Loaded Blanks Greetings, a line of fill-in-the-blanks comic-art greeting cards featuring both established as well as up and coming comics artists. Ezra recently collaborated with Chicago-based chamber group Fifth House Ensemble on the narrative concert series, Black Violet, which the Chicago Sun-Times called "a modern classic". Ezra is currently working on Upgrade Soul, a science fiction graphic novel about an elderly couple and their malformed clones. Upgrade Soul will be released in 2012 from Opertoon. http://dream-chocolate.com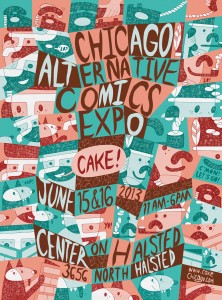 The Chicago Alternative Comics Expo [CAKE] is a weekend-long celebration of independent comics, inspired by Chicago's rich legacy as home to many of underground and alternative comics' most talented artists– past, present and future. Featuring comics for sale, workshops, exhibitions, panel discussions and more, CAKE is dedicated to fostering community and dialogue amongst independent artists, small presses, publishers and readers.
Quimby's is a proud sponsor of the CAKE which will take place Saturday and Sunday, June 15 & 16th, 11am – 6pm at the Center on Halsted, 3656 N Halsted.