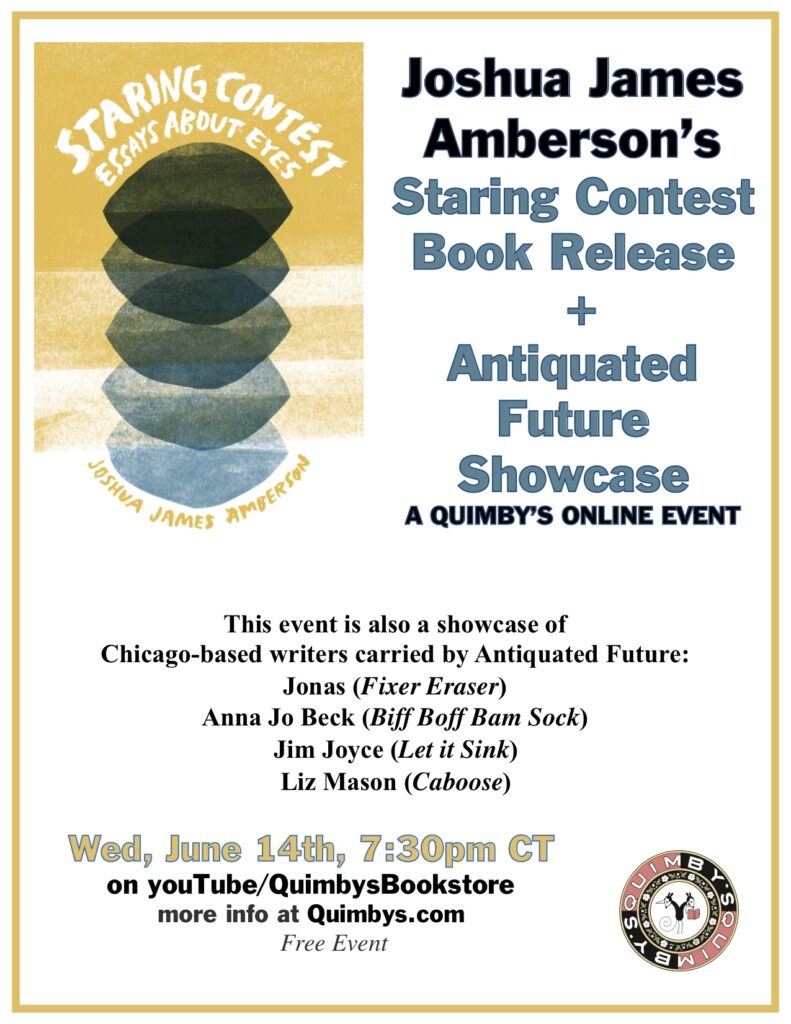 Staring Contest: Essays on Eyes (Perfect Day Publishing) is the debut full-length essay collection from zinester, arts-and-culture writer, and founder of the Antiquated Future zine distro and record label, Joshua James Amberson. Deftly weaving together such disparate subjects as Bette Davis's career, the daily challenges of eye contact, and his own decade-long saga of periodic eye injections, Amberson digs deeply into the physical and existential consequences of living with such uncertainty. Staring Contest is wise, generous, and—given the subject matter—surprisingly funny.
This event will also be a showcase of Chicago-based writers carried by Antiquated Future, including Anna Jo Beck (Biff Boff Bam Sock), Jim Joyce (Let it Sink), and Liz Mason (Caboose). It will air on the Quimby's YouTube channel so no RSVP is necessary.
"Staring Contest is a jewel box of an essay collection: It takes a quotidian facet of experience—the human gaze—and considers it at length, revealing an overlooked world of ideas and resonances." –Jordan Kisner, author of Thin Places: Essays from In Between
Joshua James Amberson is the author of the young-adult novel How to Forget Almost Everything, as well as a series of chapbooks on Two Plum Press, and the long-running Basic Paper Airplane zine series. His words have appeared in The Los Angeles Review of Books, Vol. 1 Brooklyn, Electric Literature, The Rumpus, and Tin House, among others. joshuajamesamberson.com
About the other readers:
Anna Jo Beck has been making zines for over a decade, writing and designing how-to zines on skills like personal finance, habit tracking, and health insurance, as well as a film recommendation series called Mini Movie Marathon. She also runs Zine-A-Month, a zine by mail subscription. More info on her and her various zine projects can be found at annajobeck.com
Jim Joyce writes perzines like Let It Sink and others. A gentleman, he likes keeping his hands as sof' as a frog's belly.
Liz Mason publishes Cul-de-sac, Caboose, and Awesome Things. Her work has been in places like Broken Pencil, Punk Planet, The Zine Yearbook and the back of her friend's toilets. She's worked at Quimby's Bookstore since 2001 in a state of perpetual arrested development. Find her at LizMasonIsAwesome.com + Etsy at LizMasonZines + @caboosezine at all the places.
For more info:
Buy Staring Contest at Quimby's
Wednesday, June 14th, 7:30pm CT
Online at youtube.com/quimbysbookstore
Want the Facebook invite to add it to your calendar? It's here.