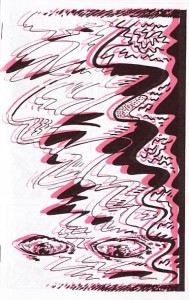 The
Chicago Alternative Comics Expo
invites you to Celebrate Free Comic Book Day at Quimby's Bookstore with them! This celebration will feature readings by local comics creators,
Jo Dery
(
Quietly Sure – Like the Keeper of a Great Secret
, Little Otsu),
Carter Lodwick
(
My Darling, Old Master
), and
Corinne Mucha
(
My Every Single Thought, Is It The Future Yet?
(a Quimby's exclusive),
Freshmen
, Zest Books). All three readers will be exhibiting at CAKE 2013.
Quimby's will feature free comics throughout the day, as well as free comics and refreshments during the event.
Corinne Mucha
Corinne Mucha is a Chicago based cartoonist, illustrator, and teaching artist. She is the author of the YA graphic novel Freshman: 9th Grade Tales of Obsessions, Revelations, and Other Nonsense, as well as the Xeric award winning My Alaskan Summer. Her comic "The Monkey in the Basement and Other Delusions" won an Ignatz award in 2011. Her self published minicomics include "My Every Single Thought," and "It Doesn't Exist."
Corrine has a comic featured in Tugboat Press' Free Comic Book Day comic, Runner Runner, which will be available at Quimby's Bookstore.
http://maidenhousefly.com
Jo Dery
Jo Dery lives in Chicago. She used to live in Providence. There are so many lovely people in both places, she feels very lucky to know them all. She makes short films, prints, and little books, and teaches younger folks to do make things too.
Jo has a comic featured in the CAKE 2013 Digest Anthology, which will is for sale at Quimby's.
http://jodery.com
Carter Lodwick
Carter draws comics about gardens and aging men in suits.
Carter has a comic featured in the Free Comic Book Day Comic, Handout Comics #3, which will be available for free at Quimby's.
http://carterlodwick.tumblr.com
The Chicago Alternative Comics Expo The Chicago Alternative Comics Expo [CAKE] is a weekend-long celebration of independent comics, inspired by Chicago's rich legacy as home to many of underground and alternative comics' most talented artists– past, present and future. Featuring comics for sale, workshops, exhibitions, panel discussions and more, CAKE is dedicated to fostering community and dialogue amongst independent artists, small presses, publishers and readers. CAKE takes place June 15 & 16, at the Center on Halsted, 3656 N Halsted. Quimby's is a proud sponsor of CAKE. http://cakechicago.com