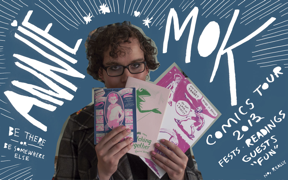 Annie Mok reads recent comics from Frank Santoro's online magazine Comics Workbook and elsewhere that touch on themes of childhood trauma, resilience, sexuality, and trans identity. She will sell Risograph-printed comics and digital prints, such as the Jim Henson bio comic Stitching Together, and the American Illustration 2012 'Archive' selection Annie Mok Draws James Joyce. She lived in Chicago from 2009-2011. A Q&A and signing follow the reading. Annie & Sam Sharpe collaborated on "Roosterlegs" for the 2012 2DCloud anthology, Little Heart.
"Annie Mok is bursting with ideas… 'Roosterlegs' is by far the best-looking strip in [Little Heart] thanks to the bold, confident lines, clever character design, and interesting use of spot color."
– Rob Clough, The Comics Journal / High-Low
Annie Mok's minicomics have been chosen to be archived for the Library of Congress's Small Press Expo Collection. She has been featured on the podcast Inkstuds. She was awarded the Xeric Grant to self-publish the 2009 anthology she edited and contributed to, Ghost Comics. Her work has appeared in anthologies such as The Graphic Canon Volume 3 from Seven Stories Press. She collaborated on a story with Emily Carroll for DC/Vertigo's fall 2013 anthology The Witching Hour.
http://anniemakesstories.com/
http://anniemok.tumblr.com/
@HeyAnnieMok on twitter & InstagramAnnie will be joined by Sam Sharpe, who has self-published over a dozen comics with such names as Koolosaurus, Poop, Return Me to the Sea and These Yams Are Delicious. His work has made the Best American Comics's "Notable Comics" list. He was born and raised in Madison Wisconsin, attended college at the Rhode Island School of Design, and now lives in Chicago. The first collection of his work will be published next year by Carpet-Bugle Press.
http://www.sambsharpe.com/
Annie & Sam collaborated on "Roosterlegs" for the 2012 2DCloud anthology, "Little Heart."
"Annie Mok is bursting with ideas… 'Roosterlegs' is by far the best-looking strip in [the 'Little Heart' anthology] thanks to the bold, confident lines, clever character design, and interesting use of spot color." – Rob Clough, The Comics Journal / High-Low
Facebook event: https://www.facebook.com/events/367416030043049/