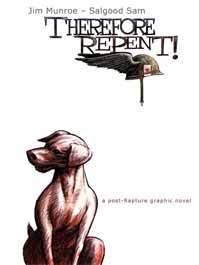 Join author Jim Munroe in conversation with Jef Smith from Think Galactic, the Wicker Park political SF book club as they discuss Munroe's graphic novel Therefore Repent! Jim Munroe will also sign copies.
What if the religious right… are right?
Therefore Repent! is a graphic novel set in a Chicago neighborhood after the Rapture. Once the Christians have floated bodily into the sky, life goes on pretty much as usual for the immoral majority… except that magic works, if you're willing to risk demonic mutations. CNN reports that Mr. Christ and Mr. Bush are on a speaking tour of the red states. And an angelic army appears to have been deployed to mop up the sinners. But through it all, outsiders Raven and Mummy face the possibility of a bigger problem than the end of the world: the end of their relationship.
In the tradition of The Book of Revelations, Therefore Repent!, courtesy of novelist Jim Munroe (Flyboy Action Figure Comes With Gasmask) and acclaimed artist Salgood Sam (Sea of Red) is a lurid, dark fantasy tale. By taking the apocryphal scripture as literal truth — as the American powers-that-be claim to do — the story also explores the political and spiritual ramifications of God abandoning humanity.
Jim Munroe 's first novel Flyboy Action Figure Comes With Gasmask was published in 1999 by HarperCollins. He founded No Media Kings in 2000 to provide a publishing alternative to media conglomeration. He is also author of Angry Young Spaceman (Four Walls, 2000), Everyone in Silico (2002) and An Opening Act of Unspeakable Evil (2004). A cultural activist and former managing editor of Adbusters magazine, he lives in Toronto