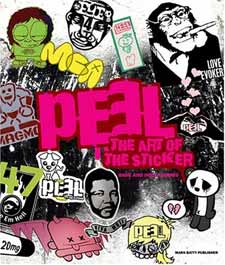 Celebrate the release of "PEEL: The Art of the Sticker," a book chronicling PEEL's innovative coverage of street art as authors Dave and Holly Combs sign copies of the book, give a short talk and possibly pass out free stickers.
PEEL Magazine, now in its fourth year, is the first street-art magazine with a focus on stickers. "Peel: The Art of the Sticker," which sells for $33 and was designed by MTV art director Shelly Fukushima and published by Mark Batty, includes 69 art stickers bound into each book. All book purchases come with additional stickers donated by the artists.
"Though the artists in the show employ a very wide range of styles and techniques and represent diverse cultures, they all use the sticker as a medium for their work – and that makes it highly accessible," said Holly Combs.
PEEL got its start after Dave and Holly Combs traveled to New York City to assist with Sept. 11 recovery efforts. While exploring Manhattan during their off hours, they were inspired by the wealth of stickers they saw all over the city. In the years since, PEEL evolved from a black and white zine stuffed into plastic bags to a full-size, glossy, internationally distributed magazine. Their new book documents the development of both PEEL and the sticker culture.
"We're helping add yet another tool to an artist's arsenal in the form of the sticker," Dave Combs said. "PEEL Magazine and our new book work to showcase sticker art's social and aesthetic power."