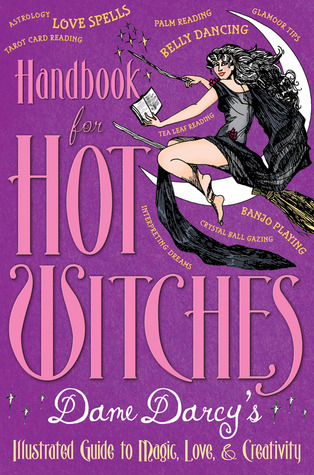 Just in time for Halloween! Quimby's is excited to welcome Dame "Meat Cake" Darcy for her new book Handbook for Hot Witches.
Plenty of artwork to satisfy her comics and illustration fans both young and old, Dame Darcy combines a graphic novel with a dash of crafts, a sprinkle of feminist fairy tales, and a whole cauldron of spells and voilà! Handbook for Hot Witches: Dame Darcy's Illustrated Guide to Magic, Love, and Creativity is the guide for girls who want cool things to do and great friends to do them with, who aren't afraid to be their different, awesome selves. It's a celebration of powerful, creative girls—the sort of girls who may have been called "witches" once, but who, as this book proclaims, are "hot," because of their talent and their uniqueness. With sections on banjo playing, beauty spells, palm reading, and much more, this fully illustrated handbook will send girls of any age on their way to independence, creativity, and magic DIY-style.
"Part graphic novel, part New Age primer, with dashes of astrology and crafts and pinches of beauty hints, the book packs a lot into its 200 pages." —
School Library Journal
What others have said about Dame Darcy:
"Darcy's comics are aesthetic manifestos. . . . Darcy is a star." —The New York Times
"I think she's exquisite, let's put it that way. I wish I knew her in high school." —Thurston Moore of Sonic Youth
Praise for Meat Cake:
"[Darcy] has created a childlike, otherworldly realm, a land that hovers in the twilight space between the whimsical and the macabre. Ghosts and goblins, foul-tempered stepmothers, lovesick mermaids and charmed forest are all rendered in Darcy's distinctive hand, loose and flowing lines reminiscent of the work of Edward Gorey." —The Los Angeles Times
Dame Darcy
currently resides in New York City and Savannah, Georgia. She is known worldwide as an illustrator, writer, fine artist, musician, filmmaker, animator, environmentalist, and Cabaret Mermaid. Her illustrated titles include
The Illustrated Jane Eyre
, and she has been publishing her comic book series,
Meat Cake
, for twenty years. More info about her at
damedarcy.com.