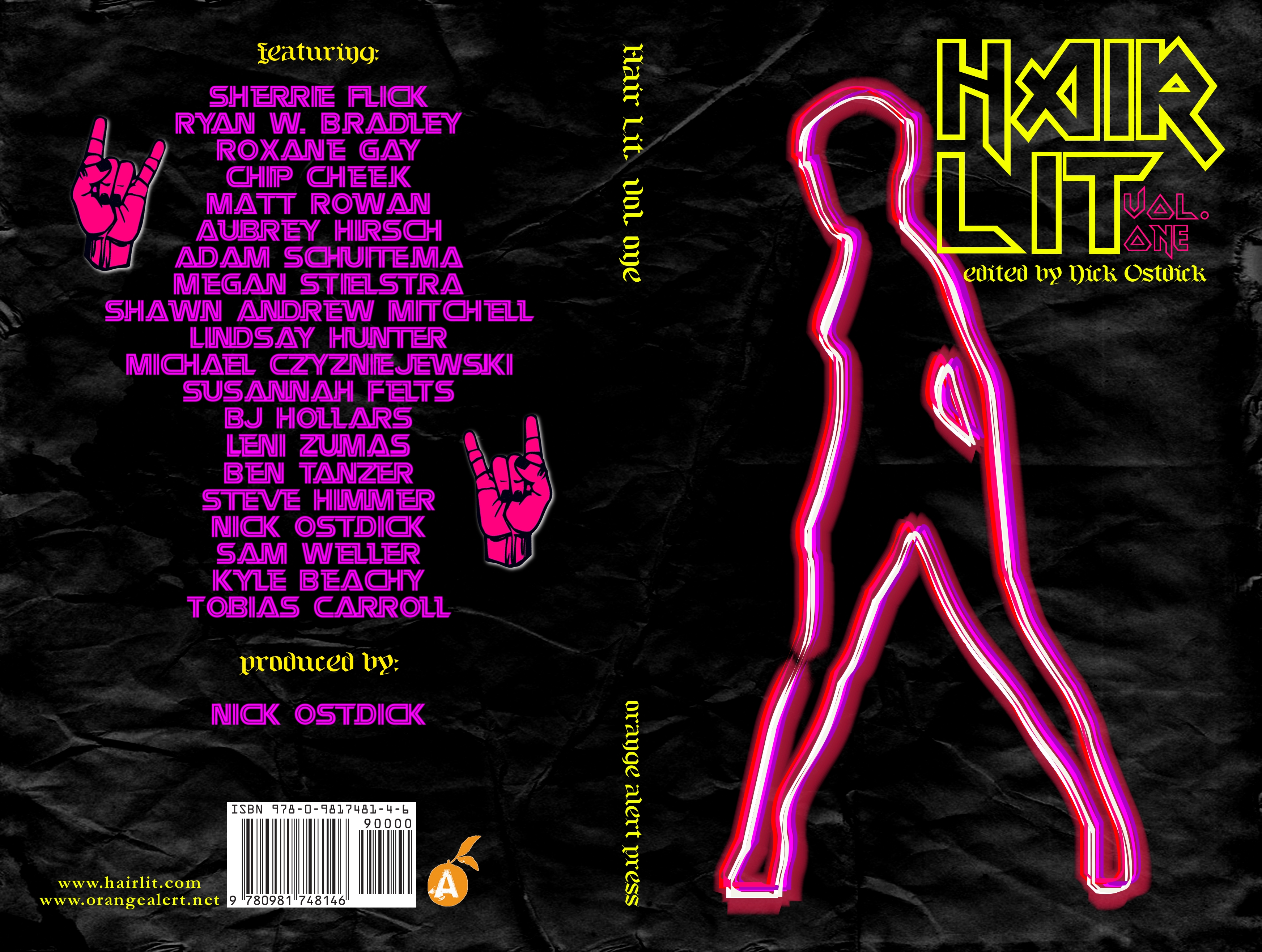 Hair Lit, Vol. 1 is an anthology of short fiction inspired by hair metal songs of the 1980's, and it is the latest release from Chicago-based independent publisher Orange Alert Press. A collection of original short fiction based on hair metal songs of the 1980's and 1990's, Hair Lit, Vol. 1 is edited by Nick Ostdick and features contributions from today's hottest purveyors of short fiction, including Sherrie Flick, Ryan W. Bradley, Roxane Gay, Chip Cheek, Matt Rowan, Aubrey Hirsch, Adam Schuitema, Megan Stielstra, Shawn Andrew Mitchell, Lindsay Hunter, Michael Czyzniejewski, Susannah Felts, BJ Hollars, Leni Zumas, Ben Tanzer, Steve Himmer, Nick Ostdick, Sam Weller, Kyle Beachy, and Tobias Carroll.
That's right: the songs you craved from the bands you loved are paid tribute in this collection that rocks as hard as the music from which it's inspired. These are stories of love and heartache. Stories of sex and drugs. Stories of misspent youth. Stories of tumultuous adulthood. Stories set to a killer soundtrack consisting of bands like Warrant, Poison, Twisted Sister, Judas Priest, Vixen, KISS, and more. It's a best-of-album-in-stories that shines a spotlight on an often overlooked period of popular music from an eclectic group of young writers who honor the source material in superb fashion, big hair and all.
Readers for the evening include Hair Lit contributors: Matt Rowan (editor of Untoward Magazine), Lindsay Hunter (author Daddy's and the forthcoming Don't Kiss Me) and Mike Joyce (editor of The Literary Orphans)
Nick Ostdick, the anthology's editor, is a husband, runner, and writer currently residing in Rockford, Illinois. He holds an MFA in Fiction Writing from Southern Illinois University and is the co-editor of the forthcoming anthology The Man Date: 15 Bromances (Prime Mincer, 2013). He's the winner of the Viola Wendt Award for Fiction and has been nominated for a Pushcart Prize, and his work has appeared or is forthcoming in Annalemma Quarterly, Exit 7, The Emerson Review, Main Street Rag, Fiction Writers Review and elsewhere.
For more info: hairlit.com  nickostdick.com  orangealertpress.com
Friday, March 15th, 7pm – Free Event