If Nothing Else the Sky by Dave Roche $5.00 – Roche's travel writing from Australia, Singapore and Malaysia -punk shows, penguin bites, koala sanctuaries and a lotta lotta LAX.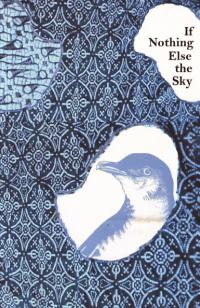 Zines
Incandescent #3 Others Memories a Color Film Zine by Marissa Csanyi, ed and Helen Jones, ed (Pine Island Press) $14.00 – an international sampling of color photography that cohesively evokes a cold morning mountaintop, cigarettes in a small town and stepping into a wood panel interior.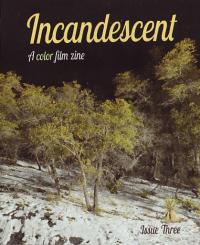 Judas Goat Quarterly #57 by Grant Schreiber $1.50
Records as Portable Exhibitions and Interactive Participatory Objects b Temporary Services $4.00
Zauber by Tina $1.00
Laika #1  $1.25
Ooze Heads #1 $3.00
Guide to Being Alone #1 (Vice Versa Press) $4.00
Mumbo #10 by D. Tosh $8.00 – Includes pieces from Crumb's 1964 sketchbook.
Delineatas Magicae Mysticum Cacas vols 1 and 2 by Suuimorb Ecnad $6.20 each
When the Crash Meets Something Solid #10 Strip It to the Bone by Gabrielle Congrave $3.00
arty zines from Booklyn: printed companions to a few exhibitions curated by Aimee Lusty, shows with titles such as Weird World, I Want You to Have Nice Things and Preserve and Protect.
Last Meals #1 by Jeremy Mlodik and Emily Schulert $3.00
P Is for Party #1 by Emily Schulert $1.00
Comics & Comix
SAW Guide to Gainesville Wildlife by John Porcellino $3.00
Happy Hour in America #4 by Tim Lane $5.00
Weird Magazine #3 by Noel Freibert (Closed Caption Comics) $10.00
Fukitor #8 by Jason Karns $10.00
Haunted Forest by Mickey Z. $5.00
Larva Dec 12 #16 $8.00
Star by Sami Aho $8.75
Tusen Hjartan Stark #1 by Warren Craghead et al. (Domino Books) $3.00
Journey to the Southern Oracle: A Neverending Fanzine by Megan Kirby $3.00 – Yes, a zine about the book and the movie. Very cute! Also by this artist: Coffee Spoons #2 $3.00, Understimulated Over Caffeinated $2.00
Graphic Novels and Trade Paperbacks
Are You My Mother? A Comic Drama by Alison Bechdel $15.95 – Now in soft cover.
Julio's Day by Gilbert Hernandez (Fantagraphics) $19.99 – Don't miss Gilbert Hernandez here at Quimby's on April 18th!
Relish: My Life in the Kitchen by Lucy Knisley $17.99
Tyrex by Mauro Entrialgo $15.95
Nube De Moscas by Mrz $15.00
Distancia Entre Extranos Monica Naranjo Uribe $15.00
Race to Incarcerate – a Graphic Retelling by Sabrina Jones and Marc Mauer $17.95
How to Fake a Moon Landing: Exposing the Myths of Science Denial by Darryl Cunningham $16.95
Recounting Streets by Juan Berrio $24.95
Adventures of Jodelle by Guy Peellaert and Pierre Bartier (Fantagraphics) $45.00
Kick Ass 2 TPB by Mark Millar $19.99
Pretty by Antoinette Lavin $12.00
50 Girls 50 and Other Stories and Al Williamson (Fantagraphics) $28.99
Taint the Meat Its the Humanity and Other Stories: Illustrated Tales from the Crypt by Jack Davis (Fantagraphics) $28.99
Art & Design
Pinxit HC by Mark Ryden (Taschen) $69.99
Warp and Weft Poster Construction by Sonnenzimmer $40.00
Pictures On Surrounding Objects by Alisha Wessler $8.00
Beyond Tattoo Art Graphics and Illustration by Worlds Leading Tattoo Artists by Allen Graves (Graffito) $34.95
Worlds End 2012 Cycle Messenger World Championship Chicago by Christopher Dilts $23.00
Mayhem, Miscreants, Memoirs, Music & Misc
I Dreamed I was a Very Clean Tramp: An Autobiography by Richard Hell $25.99
Present Shock: When Everything Happens Now by Douglas Rushkoff $26.95
The Stone Roses: War and Peace – The Definitive Story by Simon Spence $19.99
Francois Truffaut the Complete Films by Robert Ingram et al. (Taschen) $14.99
This is Portland: The City Youve Heard You Should Like (Cantankerous) $5.95
The Peoples Apocalypse by Ariel Gore and Jenny Forrester (Lit Star) $15.95
No Permanent Scars by Michael Hemery $16.00
Protect Your Garden: Eco Friendly Solutions for Healthy Plants by Ed Rosenthal $24.95
Politics & Revolution
Towards Collective Liberation: Anti-Racist Organizing Feminist Praxis Movement Building Strategy by Chris Crass (PM Press) $20.00
Maroon – The Implacable Collected Writings of Russell Maroon Shoatz (PM Press) $20.00
No Billionaire Left Behind: Satirical Activism in America by Angelique Haugerud $24.95
Disassembly Required: A Field Guide to Actually Existing Capitalism by Geoff Mann (AK Press) $14.95
Autonomy Cover Designs of Anarchy 1961-1970 by Daniel Poyner $40.00
Fiction
Alif the Unseen by G. Willow Wilson $16.00
Squirrels Breakfast by Kathleen Rudolph $21.99
War Is Language 101 Short Works by Nath Jones $4.99
Magazines
Design Bureau Apr 13 $8.00
ArtForum Apr 13 $10.00
American Atheist 2nd Quarter 13 $4.95
Skeptic vol 18 #1 $6.95
Bizarre #199 Apr 13 $10.50
Lula #16 $17.99
Gothic Beauty #39 $6.95
Dear Dave Magazine #13 $15.00
Skunk vol 8 #7 $5.99
Scootering Mar 13 #321 $8.99
Dwell Renovattion Special Spr 13 $9.99
Alarmist Magazine #2 $14.99
Fangoria #322 $9.99
Wax Poetics #54 $11.99
Under the Radar #45 $5.95
In These Times Apr 13 $3.50
Progressive Apr 13 $4.95
RFD #153 Spr 13 $9.95
CCI vol 8 Central City Ink Magazine Special Lmited Edition $4.95
Tabu Tattoo #51 $7.99
Poetry, Lit Mags, Lit Journals, Chap Books
Make #12 Spr 13 Architectural $12.00
American Reader issues #1-#4 $10.00 each
Stranger Air by Stacie Leatherman $14.95
Exact Change Only Win 13 $10.00
Bodily Matters by Neil Dilauro $17.99
Paris Review #204 $15.00
Bomb #123 Spr 13 $7.95
Kids
Happy Punks 123 a Counting Story by John (Manic D) $15.95
Open the Door: How to Excite Young People About Poetry by Dorothea Lasky et al. (McSweeneys) $16.00
Sky Full of Kindness by Rob Ryan $18.95
Secret Garden: An Inky Treasure Hunt and Coloring Book by Johanna Basford $14.95
Benjamin Bear in Bright Ideas by Philippe Courdray $12.95
Johnny Boo Does Something by James Kochalka (Top Shelf) $9.95
Other Stuff
More Moleskines! 18 month planners (start in July of 2013 and go up through the end of 2014). A variety of sizes and colors.