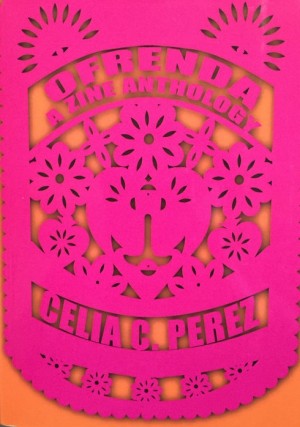 Ofrenda: A Zine Anthology by Celia C. Perez $15.00 – Collected from twenty years (1994-2014) of zines, Ofrenda is the work of Chicago-based librarian (and longtime Quimby's consignor!) Celia C. Perez. Cultural identity, loss, book love, and music nostalgia are just a few of places this books goes to. Collected zines include issues of I Dreamed I Was Assertive, Roots and Wings, Hickey Underworld, Sherman Sez (a Sherman Alexie fanzine), and many others.
Vortex by William Cardini (Sparkplug) $13.00 – Includes issues #1-#4 on the mini-comic. Vortex follows the Miizzzard as he travels to a mysterious planet and battles a strange, regenerating monster.  The story gets more complex as the Miizzz finds himself sympathizing with the monster and her kin.
Zines
KerBloom #110 Sep Oct 14 by Artnoose $2.00
Basic Paper Airplane #8 by Joshua James and Alexis $2.00
Break Em Up The Whole Goddammy Thing by Dave Roche $1.00
HindSight Lesbian Chicago 1994-2014 $3.00 No Place For A Vacation by Andrew Okun $4.00
Lazy Mom #1 Lazy Wow & #2 Lazy Chow by Phylis Ma and Josie Keefe $10.00 each – Food photo zine.
Salmon Candles #1 by Margot Reynolds $1.00 First Tour Problems #1 by Maxx $3.00
Non Dom #1 Drawings Done With My Non Dominant Hand by Chris P. $2.00 Moral Fiber #10 by Chris Pernula $5.00
Comics & Minis
Reich #12 by Elijah J. Brubaker (Sparkplug) $4.00
Bulletproof Chicken #2 Nuggets by Jonathan Westhoff & friends $3.99
Prophet Strikefile #2 by Brandon Graham and friends $3.99
Thingswamp #3 $8.00
Old Ground #1 by Noel Freibert $7.00
Good Feeling to Know by Tim Pigott $3.00
Mushroom Guardians by Virginia Paine (Sparkplug) $1.00 – Pixie-like protectorates inspired by the mushrooms from the book Mushrooms of the Pacific Northwest.
Graphic Novels & Trade Paperbacks
Incredible Change Bots Two Point Something Something by Jeffrey Brown (Top Shelf) $19.95
Soppy – A Love Story by Philippa Rice $14.99
Dream Quest of Unknown Kadath by INJ Culbard and HP Lovecraft (Self Made Hero) $19.95
The Late Child And Other Animals by Marguerite Van Cook & James Romberger (Fantagraphics) $29.95
Iranian Metamorphosis by Mana Neyestani (Uncivilized) $19.99
Tales of An Imperfect Future by Alfonso Font (Dark Horse) $17.99
Hellboy – Weird Tales by Mike Mignola and Roger Landridge (Dark Horse) $24.99
Art Books
Good Old Neo Signs, You're In Chicago by Nick Freeman (Lake Claremont) $17.95
Come Together: The Rise Of Cooperative Art and Design by Francesco  Spampinato(Princeton Arch Press) $35.00
Fiction
Luminaries by Eleanor Catton $18.00 – Now in soft cover.
Humor
Spoiled Brats by Simon Rich $25.00
Mayhem
Patty Hearst and the Twinkie Murders a Tale Of Two Trials by Paul Krassner (PM Press) $12.00
Dr. Mary's Monkey: How the Unsolved Murder of a Doctor, a Secret Laboratory in New Orleans and Cancer-Causing Monkey Viruses Are Linked to Lee Harvey, Assassination and Emerging Global Epidemics by Edward T. Haslam (Trine Day) $24.95
Silent Witnesses: The Often Gruesome But Always Fascinating History of Forensic Science by Nigel McCrery (Chicago Review Press) $16.95
How 2 Hustle by Raphael Wright $9.99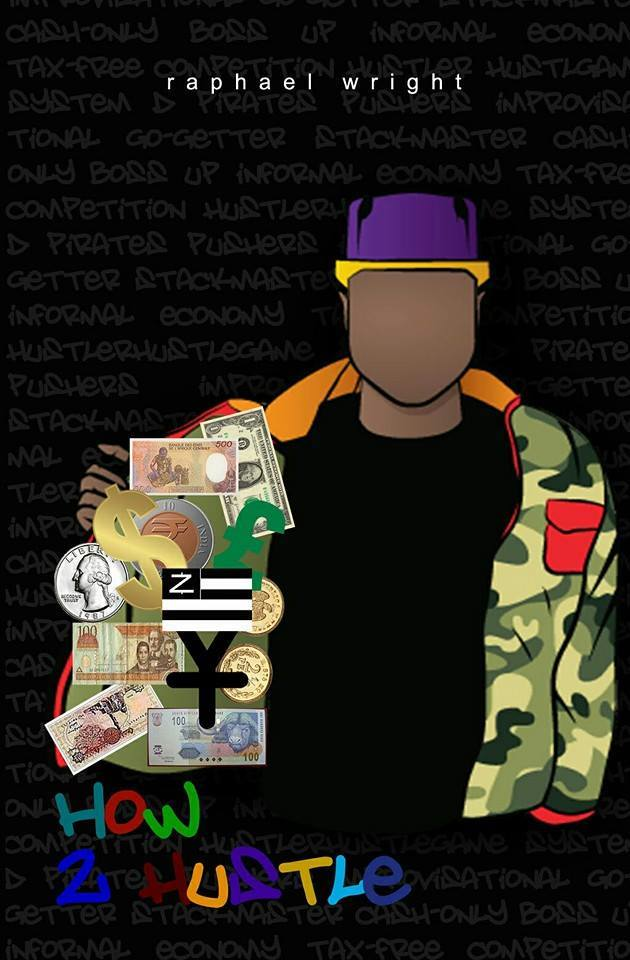 Music Books
Stealing All Transmissions: A Secret History Of the Clash by Randal Doane (PM Press) $15.95
Punk USA: The Rise and Fall Of Lookout Records by Kevin Prested (Microcosm) $14.95
Katrina's Sandcastles: New Hope From The Ruins of New Orleans Schools by Kaycee Eckhardt (Microcosm) $14.95
Alternative Jukebox: 500 Extraordinary Tracks That Tell the Story Of Alternative Music by Lloyd Bradley (Octopus) $24.99
Johnny Cash: The Life by Robert Hilburn $20.00 – Now in soft cover.
Art of Asking: Or How I Learned To Stop Worrying and Let People Help by Amanda Palmer (Grand Central) $27.00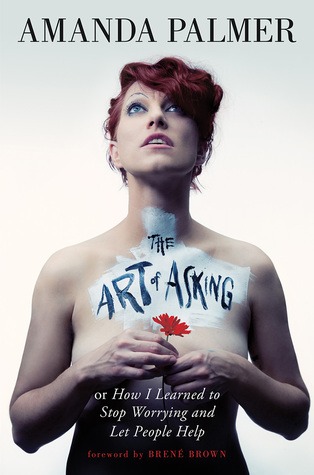 Politics & Revolution
Who's Afraid Of the Black Blocs? Anarchy In Action Around the World by Francis Dupuis-Déri (PM Press) $19.95
Doing History from the Bottom Up. On E.P. Thompson, Howard Zinn, and Rebuilding the Labor Movement From Below by Staughton Lynd (Haymarket) $17.00
Drug War Capitalism by Dawn Paley (AK) $16.95
More Than a Score: The New Uprising Against High Stakes Testing by Jesse Hagopian (Haymarket) $18.00
Speaking Out: Queer Youth In Focus by various (PM Press) $14.95
DIY
Brew It Yourself: Professional Craft Blueprints For Home Brewing by Erik Spellmeyer (Microcosm) $11.95
Kids Stuff
C Is For Chicago by Maria Kernahan (Dry Climate Studios) $19.95
Magazines
Bizarre #221 Dec 14 $10.50
Gather #6 Fall Win 14-15 Magic $19.99
Flaunt #138 Nine Lives Issue $5.95
Little White Lies #56 Truth and Movies $12.99
Wax Poetics #60 $11.99 Decibel #123 Jan 14 $5.95
Tom Magazine Issue 1 How Clouds Are Made and #2 Skin Cities $10.00 each
Chap Books
Overtime Hour 34 La Gorra by Michael Pearce $2.00
Grammar Rulse by Daviel Shy $1.00 Letters Unsent $4.00
Other Stuff
Geek Pennant $4.50