*ZINES*
Think Tank DIY #2 A Zine Full of Ideas you can Take and Use And Maybe Get Rich Off by Reggie Martinez $2.00
Six Short Dialogs for the Practicing Modern Actor by G Wallace $5.00
Welcome To Your New Life With You Being Happy by Rachel Bell $7.00
titles from Adam Gnade:
Friends Get Wayward Notes on Traveling In America $5.00
And In My Dreams Youre Alive and Youre Crying $3.00
My Brain was a Shark Eating Itself a Prelude to Subterranean Homestead Blues $5.00
Hard Fifty Farm #2 What Becomes of the Broken Hearted by Jessie Duke $4.50
Infinite Planes by Rae Whitlock $10.00
Just Make Pictures Zine #6 Color Street Photographs $5.00
Plastic Knife #14 by Luke You $3.00
*COMICS & MINIS*
Island #4 by Brandon Graham $7.99
Blown Away #2 by Alyssa Jo Varner $5.00
Titan #2 by Francois Vigneault $4.95
*GRAPHIC NOVELS & TRADE PAPERBACKS*
Hunter S. Thompson's Fear and Loathing in Las Vegas, adapted by Troy Little (Top Shelf) $24.99 – A savage journey to the heart of the American Dream. Join Thompson's alter ego Raoul Duke on the mother of all Vegas benders, as he and his attorney Dr. Gonzo cover a motorcycle race, crash a drug-enforcement convention, and rack up obscenely large room-service bills, all while dosed to the gills on a truly spectacular assortment of mind-altering substances.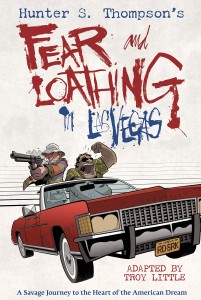 Ghosts and Girls of Fiction House! by Maurice Whitman & friends (IDW/Top Shelf) $29.99 – Busty ladies in scary ghost stories! Alert the comics authorities! Featuring faithfully reprinted original art from these 1940s and 1950s, The Chilling Archives of Horror Comics series curates the sexiest and scariest of these poltergeist-infused Good Girl Art comics.
Curveball by Jeremy Sorese (Nobrow Pres) $19.95
101 Artists To Listen To Before You Die by Ricardo Cavolo $22.99 – A personal journey filled with hilarious anecdotes through the history of music, at the hand of one of Spain's most internationally renowned illustrators. A graphic novel in the form of Ricardo Cavolo's personal diary, which follows the story of music through 101 essential artists; from Bach to Radiohead, to Amy Winehouse, Nirvana and Daft Punk. With over 100 uniquely colourful illustrations and handwritten text, lists, notes and personal anecdotes.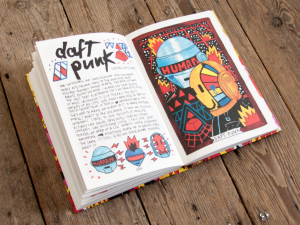 Winners by Anna Ehrlemark (Floating World) $14.95
Ghetto Klown: A Graphic Novel by John Leguizamo, illustrated by Shamus Beyale (Abrams) $24.95 – Memoir from this celebrated performer.
CASANOVA ACEDIA vol 1 by Matt Fraction, Gabriel Ba, Fabio Moon, Michael Chabon, Dustin Harbin $9.99
*ART BOOKS*
Hieronymus Bosch Sticker Book: Create Your Own Artworks! (Prestel) $9.95
Mathematical Mandalas Coloring Book by Sergio Guinot (Loft Publications) $9.99
Lets Write: Design Your Own Fonts (Prestel) $12.95
1000 Fashion Details by Natalio Martin (Booq Publishing) $29.99 – Fashion talents from around the world reveal the magnificence of their individual haute couture techniques that they combine with innovative advances.
Art Forms from the Abyss by Ernst Haeckel $29.95
Official: A Game of Thrones Coloring Book by George RR Martin $16.95
*FICTION*
Trigger Warning: Short Fictions and Disturbances by Neil Gaiman $16.99 – Now in soft cover! This book includes previously published pieces of short fiction—stories, verse, and a very special Doctor Who story that was written for the fiftieth anniversary of the beloved series in 2013—as well "Black Dog," a new tale that revisits the world of American Gods, exclusive to this collection.
Familiar vol 2 Into the Forest by Mark Z. Danielewski (Pantheon) $25.00
Slade House: A Novel by David Mitchell $26.00
Dark Days White City by Melanie P. Falina $4.99
Dis-condition of Ease by Owen Patterson $9.95
Murder Most Serene by Gabrielle Wittkop (Wakefield Press) $12.95 – By the self-styled heir to the Marquis de Sade, Gabrielle Wittkop (1920-2002) writes a tale darkness, death, poison and transgression, that is also an over-the-top, tongue-in-cheek Venetian romp.
Exemplary Departures by Gabrielle Wittkop (Wakefield Press) $16.95 – "Exemplary" deaths in various exotic locations around the globe including the assassination of hermaphroditic twins in a stagecoach and a gentleman spy disappearance with his secrets into the Malaysian jungle. A true modern inheritor of the legacy of the French Decadent writers, Wittkop spins these tales with her trademark macabre elegance and chilling humor, maneuvering in an uncertain space between dark Romanticism, Gothic Expressionism and Sadean cruelty.
Mark and the Void: A Novel by Paul Murray $27.00
*ESSAYS*
Brief Encounters: A Collection of Contemporary Nonfiction, edited by Judith Kitchen, Dinah Lenney $15.95 – Featuring the work of the emerging and the established?including Stuart Dybek, Roxanne Gay, Eduardo Galeano, Leslie Jamison, and Julian Barnes.
The Other Paris by Luc Sante $28.00 – A whirlwind tour of those who represent another side of Paris: the outcasts, criminals and eccentrics. This book draws on testimony from a great range of witnesses-from Balzac and Hugo to assorted boulevardiers, rabble-rousers, and tramps.
The Uncollected David Rakoff: Including the entire text of Love, Dishonor, Marry, Die, Cherish, Perish $15.95
Someplace Else: On Wanderlust, Expatriate Life, & the Call of the Wild by Bart Schaneman (Punch Drunk Press) $14.99 – Explores the themes of travel, of living abroad and of returning home after five years of living out of country.
*HUMOR*
The Biographical Dictionary of Literary Failure by CD Rose (Melville House Publishing) $14.95
Bullshit: A Lexicon by Mark Peters $16.00
*SCIENCE!*
Scream: Chilling Adventures in the Science of Fear (PublicAffairs) $26.99 – Kerr is a sociologist prof but also works for ScareHouse, a haunted house in Pittsburgh. She also co-runs academic studies of fear. She went around the world researching fear in different contexts: roller coasters, places rumored to be haunted (like abandoned prisons), countries known for their high crime, a Japanese forest with a reputation for high suicide rates, etc. It's a fascinating read but also, it's a bit like the charmingly chatty and fun science writing of Mary Roach (who wrote books like Spook, Gulp, and so on). But it also has that personal journey feel to it to. So it's more than a sociological or scientific study. It's sort of memoir-y and sometimes kind of natural history-ish too. -LM
Woman With a Worm in Her Head and Other True Stories of Infectious Disease by Pamela Nagami, MD $16.99
Sixth Extinction: An Unnatural History by Elizabeth Kolbert $16.00
*MUSIC BOOKS*
Hunger Makes Me A Modern Girl: A Memoir by Carrie Brownstein $27.95
The Rap Year Book: The Most Important Rap Song From Every Year Since 1979, Discussed, Debated, and Deconstructed by Shea Serrano, illustrated by Arturo Torres, foreward by Ice-T (Abrams) $18.95 – Complete with infographics, lyric maps, uproarious and informative footnotes, portraits of the artists, and short essays by other prominent music writers.
The Art of Rock: Posters from Presley to Punk, A Spectacular Visual and Oral History by Paul Grushkin (Abbeville Press) $45.00
*FOOD'n'DRUGS*
Lucky Peach Presents 101 Easy Asian Recipes by Peter Meehan and the editors of Lucky Peach $35.00
The Cannabis Spa at Home: How to Make Marijuana-Infused Lotions, Massage Oils, Ointments, Bath Salts, Spa Nosh, and More by Sandra Hinchliffe $16.95
W. C. Whitfield's Mixed Drinks and Cocktails – An Illustrated, Old-School Bartender's Guide. by W. C. Whitfield, illustrated by Tad Shell $26.99 – Bartenders were the rock stars of the 30s and 40s. This book combines two W.C. Whitfield books of recipes from this time period: Just Cocktails (published in 1939) and Here's How: Mixed Drinks (1941). Learn everything you need to know about mixing drinks, as well as over 400 drinks including the Brandy Blazer, the Uncle Sam Highball and many more!
Cocktails of the Movies: An Illustrated Guide to Cinematic Mixology by Will Francis, Stacey Marsh (Prestel) $19.95 – From Marilyn's Manhattan in Some Like It Hot to The Dude's White Russian in The Big Lebowski there's something for everyone. Each cocktail is accompanied by the recipe, method, a history of the drink and a synopsis of its scene in the movie alongside full-color original artwork.
The Mad Feast: An Ecstatic Tour Through America's Food by Matthew Gavin Frank $35.00
*MAYHEM*
Death: A Picture Album by Wellcome Collection (DGV) $28.00 – Disturbing, macabre, and moving: the images in this book examine our enduring desire to make peace with death. Chosen from the spectacular collection of a death-obsessed print dealer from Chicago, Richard Harris, they include art from an array of time periods, places, and traditions. Works by Linda Connor, Robert Mapplethorpe, Andy Warhol, Otto Dix, and Francisco Goya are shown alongside Renaissance vanitas paintings, Japanese Ukiyo-e woodcuts, photographs of Mexico's Day of the Dead and eerie snapshots from 1900s of anonymous sitters posing with skulls and skeletons.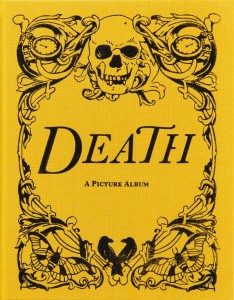 The Weegee Guide to New York: Roaming the City With Its Greatest Tabloid Photographer by Philomena Mariani and Christopher George (Prestel) $39.95 – Weegee explored NY's least glamorous pockets, depicting brutal crimes, horrific accidents, tenement dwellers, street vendors, and mischievous kids. Includes contemporary and period maps to aid the intrepid explorer or casual rambler as they retrace Weegee's steps from murder scene to car wreck to street fight.
Levitation: What It Is, How It Works, How to Do It (Mind, Body Knowledge Series) by Steve Richards (Weiser) $14.95 – So uplifting! Hahahahahahahaha.
*DIY*
Self Publish Be Happy: A DIY Photobook Manual and Manifesto by Bruno Ceschel (Aperture) $29.95
Introduction to Intuition and Clairvoyance by Kelly Cree and Jessica Mullen $5.00
*FILM BOOKS*
The World of Tim Burton (Hatje Cantz Publishers) $30.00
*SEX*
The Institute of Sexology by Welcome Collection $45.00 – From anthropological surveys and questionnaires to ancient sex toys and machines, The Institute of Sexology presents fascinating findings alongside a wide range of rare documents, artworks, photographs, and erotica from the past.
*POLITICS & REVOLUTION*
Anything for a Vote: Dirty Tricks, Cheap Shots, and October Surprises in U.S. Presidential Campaigns by Joseph Cummins $19.95
*MAGAZINES*
Maximumrocknroll #390 Nov 15 $4.99
Girls Like Us vol 2 #7 $12.00
Frankie #67 $14.95
Mojo #264 Nov 15 Beatles $10.50
Flaunt #143 Fall 15 $15.95
Backwoodsman vol 36 #6 Nov Dec 15 $4.95
Ancestry Quarterly #4 Summer of Love $25.00
Shindig #50 $12.99
ArtForum Nov 15 vol 54 #3 $10.00
Zingmagazine #27 $30.00
Fate #728 $5.95
In These Times Nov 15 $3.50
Modern Drunkard #60 $4.95
Skeptical Inquirer vol 39 #6 Nov Dec 15 $5.99
Tattoo Energy #97 $10.99
Meditate With Color vol 2 Nov Dec 15 $14.99
*LIT JOURNALS*
Wax Paper vol 1 #1 $3.00
*KIDS BOOKS*
Die Gestalten Verlag kids books from their "Little Gestalten" imprint:
Issun Boshi: The One Inch Boy by Ichinori $19.95
Alphabetics: An Aesthetically Awesome Alliterated Alphabet Anthology by Patrick and Traci Concepción $16.95
Night Watchman by Phillipe Fichot $24.95
Lets Bake: A Step by Step Introduction by Clara Lidström and Annakarin Nyberg $19.95
How Big is Big? How Far is Far? by Jan Van Der Veken $24.95 – The Queen of England's crown weighs more than 100 portions of cotton candy!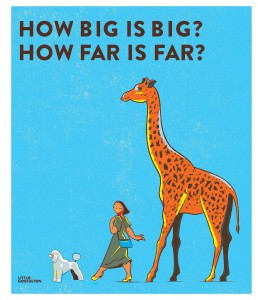 Honey Hunter by Karthika Nair & Joelle Jolivet $24.95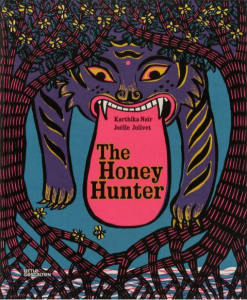 Lost Ocean: An Inky Treasure Hunt and Coloring Book by Johanna Basford $16.95
Alices Adventures in Wonderland by Lewis Carroll, Illustrated by Anna Bond $30.00