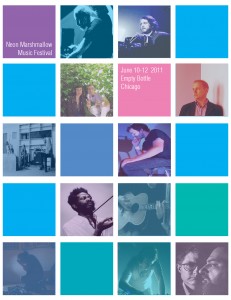 Don't miss the experimental/psychedelic music event Neon Marshmallow Music Festiva, which returns for its second year June 10th, 11th & 12th at The Empty Bottle. Featuring full performances by: synth creator/legend Morton Subotnick, Pelt, OneOhTrix Point Never, Lucky Dragons, Sam Prekop (the Sea & Cake), Lichens, Bill Orcutt, Rene Hell, White Rainbow,  Dylan Ettinger, Sword Heaven and many more. Plus films from Alice Cohen, Amy Ruhl & Experimental 1/2 Hour.
Complete passes & individual night tickets available at www.neonmarshmallowfest.com
This is at the Empty Bottle at 1035 N. Western Ave, Chicago.