Get Over It by Corinne Mucha (Secret Acres) $15.00
Zines & Zine-Related
Shit's Fucked a Positivity Guide by Gina Sarti $3.00
The Dwelling Portably Box Set 1980-2012 – Tips From the People Who Sparked the Tiny House Movement by Holly & Bert Davis (Microcosm Publishing) $19.95
From the Lyceum by Jasie $2.00
Smells Fingers vol 1 #5 GrubBlops by Alicia Rose $2.00
Dumb Luck #1 & #2 by Kurt Austin $2.00 each
Serial Killers Unite #16 $3.00
Swim Team by KJ Martinet $10.00
Now You Know a Collection of Short Stories by Tony Arcabascio (Arkitip) $13.00
Freezer Burn #20 by Ben Mister $3.00
Comics & Comix
Cumlung #1 & #2 The Blowjob Time Traveler by Aaron Manczyk $3.00 each
Madinguari Hannah Chavez $14.00
MA Book #1 The Tree ofLife of Trilogy by Mark McKeown $9.00
Pubes #1 by Brock Brock $1.00
Empire State of Mind #2 by Ethan Heitner $2.00
Free Tokyo Don #1 Welcome Fever Its Me the Magic In by Keenan Marshall Keller (Drippy Bone Books) $6.00
It's Right Behind You – Horrible Horrors and Other Weirdness by Jonathan La Mantia $10.00
Reality Check Comix Everything is Going Great  by Sam Szabo $1.00
Club Queen Rat King  by Emma Louthan $3.00
Foodporn by Meghan Turbit $5.00
Making Flower by Eric B. Riviera $8.00
Skinjobs by James O and friends $15.00 – "Blade Runner"-inspired art.
Said While Talking  by MariNaomi $10.00
Murder Dollhouse #4 Shortcuts by Teppei Ando $4.00
Graphic Novels & Trade Paperbacks
Photobooth: A Biography by Meags Fitzgerald $20.00 – Don't miss Meags Fitzgerald here at Quimby's 6/12!
Bad Houses by Sara Ryan $19.99
Celeste by I. N. J. Culbard (Self-Made Hero) $24.95
Miracleman Book 1: A Dream of Flying by "The Original Writer" (aka Alan Moore) $29.99
Marvel Boy by Grant Morrison et al. $15.99
Comics: A Global History 1968 to the Present by Dan Mazur and Alexander Danner $39.99
Made Fun by Nate McDonough $10.00
Art & Design
If You Knew What I Know It Would Be Strange by Jason Jagel (Arkitip) $10.00
Illustrated Poetic Reader by Dan Chainer $5.00
Druuuuuuugs
Ayahuasca Sessions: Conversations with Amazonian Curanderos and Western Shamans by Rak Razam (North Atlantic) $19.95
Fiction
Scissors: A Novel by Stéphane Michaka $15.95
Music Books
No Slam Dancing, No Stage Diving, No Spikes by Amy Yates Wuelfing, Steven DiLodovico (Diwulf) $29.00 – Oral history of 80s-era alternative, metal and punk rock music told through the portal of one club Trenton, New Jersey's legendary City Gardens.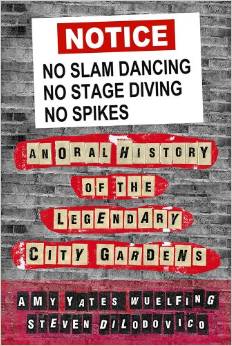 Essays
American Savage: Insights, Slights and Fights on Faith, Sex, Love and Politics by Dan Savage $17.00 – Now in soft cover.
Atheist in the Foxhole: A Liberal's Eight Year Odyssey Inside the Heart of the Right Wing Media by Joe Muto $17.00 – Now in soft cover.
Magazines
Kinfolk vol 12 Discovering New Things to Cook Make and Do $18.00
South As a State of Mind Spr Sum 14 $19.95
Violet #1 $14.99
Murder Most Foul #92 $9.99
True Crime May 14 $8.99
Arena Homme Plus #41 Spr 14 $18.50
Lit Journals
Insomniac Propagandist $10.00
Fifth Wednesday Journal: Defining Literature In Real Context #14 Spr 14 $11.00