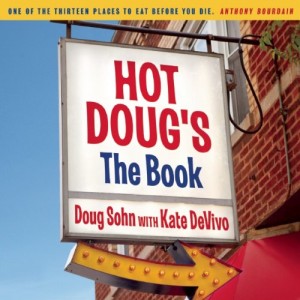 Hot Doug's: The Book by Doug Sohn (Agate Midway) $24.95 – When it comes to hot dogs, Hot Doug's head chef Doug Sohn is the master of the craft. His introduction of gourmet ingredients and professionally trained culinary flair to the world of encased meats has earned him national recognition and praise. In Hot Doug's: The Book, Sohn takes the reader on a fun, irreverent trip through the history of hot dogs, his restaurant, and the many patrons — both famous and average Joe — who have declared Sohn the king of dogs. As told through Sohn's own stories, this book will combine photos, favorite anecdotes, lessons learned, and lists ranging from general restaurant etiquette to most-repeated sausage double-entendres (Doug's heard 'em all). Stories included will reveal fact from the folklore of the restaurant's founding, retell the tale of Hot Doug's infamous 2006 run-in with Chicago City Hall, and even provide accounts of Hot Doug's-inspired tattoos, which if presented upon order privilege the bearer to free hot dogs for life. Contributions from some of Hot Doug's biggest fans will be spread throughout the book, with raves from Paul Kahan, Steve Albini, Dan Sinker, Mindy Segal, Homaro Cantu, Aziz Ansari, many other local and national figures, and an introduction from Graham Elliot.
Zines & Zine-Related Books
Zisk Presents Fan Interference: A  Collection of Baseball Rants and Reflections co-edited by by Mike Faloon & Steve Reynolds $22.95 – Don't miss Mike Faloon & Steve Reynolds here at Quimby's on July 19th.
Crazy But Not Insane #1 by Allison Farn $2.00
Rochester Teenset Outsider #24  I Hate the 90's by W. Carroll $1.00 – Sucking in the 90s, with a special feature interview of Ren and Stimpy voice-ologist Billy West!!!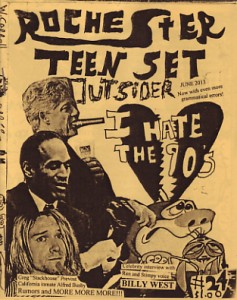 So You Want To Go To College by EMS $2.95
Taking the Lane vol 9 Disaster by Elly Blue (Microcosm) $5.50
Surface Area #2 $5.00
Offline #3 by $7.00
Moral Fiber issues #7 and #8 by Chris Pernula $2.00 each
Forever Falling Sideways #1 a Zine on Mental Health by Sascha Altman DuBrul (Pioneers Press) $5.00
One Way Ticket #7.5 (Pioneers Press) $3.00
What's Their Name: More Adventures WO Gender by Julia Eff (Pioneers Press) $5.00
Head Space #1 2013 $3.00
Tater Totter #2 a Periodical Publication for Kids $5.00
Rain Crow Rain Crow Sing Us A Shower $3.00 – New from Sean of Thoughtworm zine.
Dream Whip #15 The Pedal Powered Movie Tour by Bill Brown (Microcosm) $9.25 – Bill Brown embarks upon a bicycle ride across the country he was born in but that he's not sure he recognizes anymore. During this, his 15th adventure, he pedals through 2,000 miles of meth heads and road rage, Mississippi River murder, psychic waitresses, anarchists, haunted Unitarian churches, GMO soybeans, farm dogs with bad attitudes, and coconut cream pie.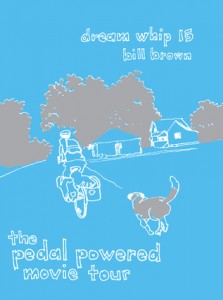 Comics & Comix
Lou #14 by Melissa Mendes (Oily) $1.00 – Runaway kids and pizza parlor intrigue.
Middleground by Andy Burkholder (Oily) $1.00
Not a Horse Girl #1 by Marian Runk (Oily) $1.00
Outside #2 of 3 by Marc Geddes (Oily) $1.00
Training by Josh Simmons (Oily) $1.00
Captcha #7 by Jo Jo Sherrow $6.00
Dope Mouthfeel #4 $4.00
Reptile Museum vols 1 #1 and vol 1 #2 and  by Cody Pickrodt
Coin Op You Don't Look Like Anyone I Know by Peter and Maria Hoey $6.00
Coin Op Your Smile at the Top of the Dial by Peter and Maria Hoey $6.00
Blammo #8 by Noah Van Sciver (Kilgore Books) $5.00 – VanSciver's fantastic floppy returns! Charles the Chicken! Punks vs. Lizards! Begrudged humans! Odd toys! My favorite part of this new issue is a beautifully drawn Grimm fairy story that seems a direct tribute to Valery Carrick's terrific and emotive illustrations for Russian folk tales. -EF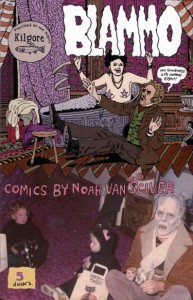 Graphic Novels & Trade Paperbacks
Primates: The Fearless Science of Jane Goodall Dian Fossey and Birute Galdikas by Jim Ottaviani and Maris Wicks (First Second) $19.99
Pietrolino by Jorodowsky and Boiscommun (Humanoids) $29.95
Preacher Book One TPB by Garth Ennis et al. $19.99
Art & Design
Acorn by Yoko One (OR Books) $16.00
The Steampunk Alphabet by Nathanael Iwata $14.95
Sex & Sexy
Bi – Notes for a Bisexual Revolution by Shiri Eisner $16.00
Mayhem, Miscreants, Memoirs, Music & Misc
George Kuchar: Interviews and Conversations (re/Search) $9.99 – As in the legendary underground filmmaker/educator whose campy films inspired John Waters and David Lynch.
You Don't Know Me But You Dont Like Me: Phish Insane Clown Posse and My Misadventures With Two of Musics Most Maligned Tribes by Nathan Rabin $16.00
Cemetery Gates: Saints and Survivors of the Heavy Metal Scene by mick O'Shea (Plexus) $19.95
Autopilot The Art and Science of Doing Nothing by Andrew Smith (OR Books) $16.00
Politics & Revolution
Bamboozled: An Incarcerated Boxer Goes Undercover for John McCain's Boxing Bill by Joe Biel (Microcosm) $9.95
Lynch Law In Georgia and Other Writings  by Ida B. Wells $20.00
The Labor Movement in Japan by Sen Katayama (Prism Key Press) $15.00
DIY
Grow: How to Take Your DIY Project and Passion to the Next Level and Quit Your Job by Eleanor C. Whitney (Cantankerous Titles) $13.95 – Don't miss Eleanor C. Whitney here at Quimby's on July 12th, discussing success and sustainability as an independent writer, publisher and creative business owner. The panel will feature Chicago-based creatives Selena Fragassi (Boxx Magazine), Rebecca Ann Rakstad (Rarrar Press), and Bradley Adita (PopPunk.com).
Fiction
Skagboys by Irvine Welsh $16.95 – Now in soft cover.
In a Corner Darkly: Short Stories to Horrify Shock and Disturb by Sue Rovens $12.00
White Feathered Octopus by Jason Robert Bell $20.00 – From the artist of Caveman Robot.
Keep Your Enemies Closer by Mark O'Neal $10.00
I Know Very Well How I Got My Name by Elliott DeLine $12.00
Magazines
Kinfolk vol 8 A Guide For Small Gatherings $18.00
Under the Influence #12 Spr Sum 13 Coming of Age Issue $24.99
White Fungus #13 $10.00
True Detective Summer Special 2013 $10.99
Bizarre #202 $10.50
Uncut Nick Cave Ultimate Music Guide #5 $13.99
Fifth Estate vol 48 #1 Sum 13 $4.00
AdBusters Jul Aug 13 $12.95
RFD #154 Sum 13 $9.95
Paper Sum 13 vol 29 #8 $4.00
Grantland Quarterly vol 6 (McSweeneys) $25.00 – Chuck Klosterman explains how he got involved in a conspiracy theory about Gen. David Petraeus, Real Housewives of Beverly Hills postcards, a fully illustrated breakdown of Claire Danes's Homeland cry faces, Ke$ha's shining moment with her new album and more.

Poetry, Lit Mags, Lit Journals, Chap Books
This Super Doom I Aver by Russell Jaffe (Poets Democracy) $10.00 – Poetry Mad Libs!
Mystery & Adventure Series Review #47 by Fred Woodworth $3.00
Brick #91 Sum 13 A Literary Journal $15.00
Expatlitj #1 Mar 13 $7.00
The American Reader vol 1 #5 #6 May Jun 13 $10.00
I'm So Into You by Dolly Lemke (Plumberries Press) $4.00
Mr Ivy by Brenna York (Plumberries Press) $4.00
Five Years In and Americorps Quarterly Report #3 Split by Michael Stoneberg and Alex Friedman (Plumberries Press) $3.00
Mercy Mercy Mercy by Cynthia Spencer $4.00
All I Wanna Do by Bethany Price (Pitymilk Press) $4.00